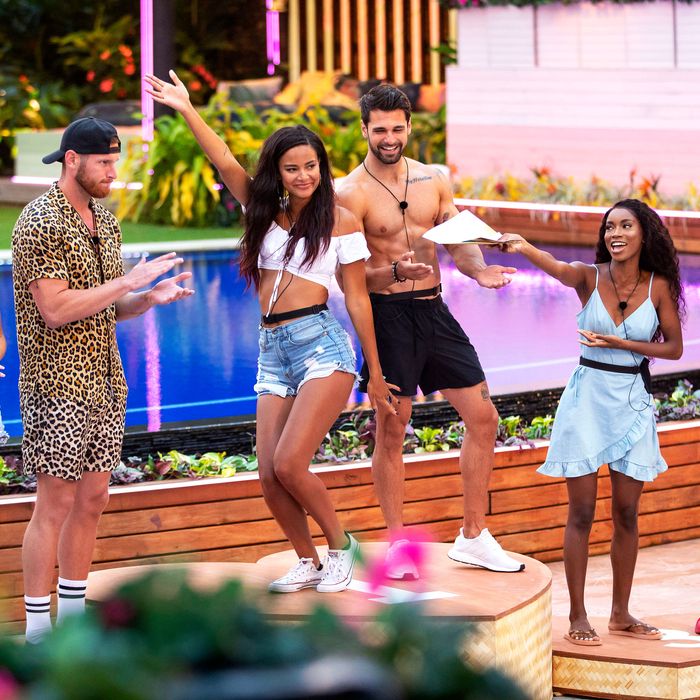 Photo: Colin Young-Wolff/CBS
CBS last week ordered a second season of Love Island, its five-nights-per-week relationship reality show adapted from the blockbuster British hit of the same name. The Eye's decision to renew the series was hardly a no-brainer, though: It's been averaging 2.6 million viewers per episode, a modest number even in the dog days of summer — and a bit of a disappointment given the U.K. original draws up to twice as many viewers in a nation with roughly one-fifth the population. But at a time when broadcast networks are struggling mightily to stay relevant, particularly with younger viewers, booking another trip to Love Island was absolutely the right call for CBS. Here are three big reasons why.
It brought new, younger viewers to CBS.
There's no doubt the Eye could've gotten as many eyeballs, or even more, by filling Love Island's 8 p.m. time slot with reruns. It probably would've been cheaper, too, since CBS landed the show from producer ITV Studios after a bidding war with multiple networks, indicating CBS made a substantial financial commitment to get the series. But even if there were fewer viewers, the folks who did watch Love Island are arguably more valuable to CBS than the audience that seek out encore showings of NCIS: They are younger, more engaged, and more of them are women. Or, as CBS Entertainment chief Kelly Kahl told reporters last week at the TV Critics Association press tour, Love Island delivered "a really solid, consistent core audience comprised of people who don't typically watch CBS."
According to CBS and Nielsen, Love Island is averaging a 0.5 rating among women under 35. That's nearly two times the network's regular season average among millennial women, and it's on par with what summer originals such as Fox's MasterChef and ABC's Grand Hotel are doing. On several occasions, Love Island has won its slot with women under 35, with some editions of the show landing in the top 20 shows of the week in the demo (and the top ten among the even-younger group of viewers aged 12 to 34). While the median age of the Love Island viewer is, like almost everything on network TV, on the older side — 55.6 years old — that's still a full seven years younger than most CBS shows, and a bit younger than unscripted stalwarts Survivor (56.4) and The Amazing Race (57.5). Most promisingly for CBS, those who've seen Love Island seem to like it: Its ratings have been remarkably consistent since it debuted in early July, indicating folks who've sampled have (mostly) been hooked.
Reaching non-traditional CBS viewers is no small thing, particularly in the weeks leading up the fall season when broadcast networks charge the most for advertising and launch the bulk of their new shows. Love Island lets CBS sell freshman series such as The Unicorn and Evil to potential viewers who'd otherwise might not even know these shows existed. It's not a game-changer, but in the age of Too Much TV, even the slightest advantage helps. Plus, broadcast networks, particularly one as old-skewing as CBS, need to keep taking chances on shows outside their comfort zones. Young women will never be CBS's target audience, and Love Island will almost surely never match the performance of ABC's The Bachelorette, which in recent weeks has been earning as high as a 3.0 rating with women under 35 — six times what Love Island is doing. But broadcasters, particularly CBS, need to stay at least somewhat relevant with people under 30 if they want to continue to be broad-casters. Networks won't get them to ditch their streaming services, but every once in a while, they might get lucky with a younger-skewing hit such as This Is Us or The Masked Singer — shows that prove younger viewers are still willing to check out network TV.
It was actually good!
Love Island won't win a Peabody Award, and those of us who tuned in for all four weeks probably lost a few brain cells watching the show's impossibly fit cast use the word "vibe" as frequently as President Trump says "no collusion." But unlike Fox's paint-by-numbers revival of Paradise Hotel earlier this year, Love Island substantially elevated the unscripted genre. Sure, the show's masterful editors still worked overtime to extract maximum drama from every glance and sigh. Yet it never felt as if the show was trying to manufacture fake feuds or turn small disagreements into civil wars. The participants weren't deep thinkers, but they also didn't seem to have been drawn from the pool of misfits and malcontents on which reality show producers so often rely. Love Island also featured a cast from a wide range of ethnic backgrounds, and while it was, like most network TV dating shows, focused on heterosexual relationships, one of the season's breakout stars was Kyra Green, a bisexual woman. Her flirtation with fellow Islander Emily Sulch was treated matter-of-factly, rather than as some shocking development. It wasn't as groundbreaking as the current season of MTV's Are You the One?, but for a network TV show, it was refreshingly bold.
Love Island also stood out through a couple of its production elements. Instead of the usual reality-show stock music, it was jam-packed with recognizable tunes, from current hits by Lil Nas X and Lizzo to past blockbusters from Taylor Swift and REO Speedwagon. (It even used the theme to Dawson's Creek to great effect.) The music was almost a character on the show, coaxing emotional reactions out of viewers in a way an instrumental score can't. Similarly, rather than having a host or narrator manipulate viewers with fake promises of drama ("The most exciting rose ceremony … ever!"), Love Island narrator Matthew Hoffman smashed right through the fourth wall by offering up honest, often hilarious color commentary on the goings-on at the show's villa. (Reality Blurred editor and Vulture contributor Andy Dehnart chronicled some of his best early lines.)
Look, it takes nothing away from carefully engineered, massively successful shows like The Bachelorette or Big Brother to note that Love Island has evolved the reality-TV formula. And CBS, whose two biggest unscripted tentpoles date back to the last days of Bill Clinton's presidency, is exactly the right network to be taking a chance on a show this ambitious.
It still has plenty of room to grow.
In announcing the second season order for Love Island, CBS execs noted that the U.K. original wasn't an out-of-the-box hit when it premiered in 2015. Indeed, the first season of the show (or "series," as seasons are called in Britain) drew barely a half-million viewers on ITV2; the recently concluded fifth cycle of the show drew as many as six million viewers per episode, including DVR replays. While it's hardly a given the same pattern will repeat itself here, a second season could grow substantially — if CBS puts the right marketing effort behind the show. Though the network hyped the show heavily on its own air and mounted a decent-sized social media ad campaign, industry insiders outside CBS suggest the network didn't spend nearly enough selling the show on young-skewing cable channels (such as MTV) or websites. The problem wasn't that audiences rejected Love Island; those who watched the premiere mostly stuck with the series. Instead, the issue was that many of the viewers CBS needed to recruit likely had no idea what the show was or when it aired. (It didn't help that much of the advertising didn't do a good job capturing what the show was about.)
CBS has wisely made it possible for anyone with an internet connection to stream Love Island — no cable log-in needed — but it should use the months between now and season two to get as many people as possible to sample season one. ITV and CBS haven't indicated where episodes will live after Wednesday's finale beyond CBS.com and CBS All Access, but they'd be smart to get season one on either Hulu (where the original U.K. version lives in the U.S.) or Netflix (which could expose the show to tens of millions of younger viewers). The model to emulate is PopTV's Schitt's Creek, which is arguably the most widely distributed show on basic cable: You can watch reruns via Pop's own platforms, cable VOD, Netflix, or, as of earlier this month, the CW's Seed app and website.
Love Island should be similarly ubiquitous, with CBS giving up exclusivity (for now) in order to get the show seen. And when season two launches next summer, CBS should partner with a younger-skewing platform to make sure Love Island reaches a bigger audience. The network was ahead of the curve years ago when it struck a deal to put episodes of Under the Dome on Amazon Prime Video days after they aired on CBS. There's no reason Love Island couldn't air simultaneously on CBS and, say, MTV next summer, much the way BBC America's Killing Eve also aired on AMC during its second season. Such a strategy would make even more sense if, as expected, CBS and MTV's parent company Viacom go through with a merger.
Of course, even with a smarter distribution strategy and better marketing, it's possible Love Island will simply never break out in the States. American audiences weaned on The Bachelor the past 15 years may be more than satisfied with ABC's ever-evolving, still-surprising dating franchise (which even has its own Love Island-like spinoff, Bachelor in Paradise), leaving no room for a newcomer. This has happened before: When Fox and Simon Cowell finally teamed up to do an American take on long running British music competition series The X-Factor, U.S. viewers decided American Idol and The Voice were good enough, leaving X to settle for Nielsen scraps.
But sometimes patience pays off. In the summer of 2000, CBS imported a hit Dutch reality show in which strangers lived together in a house while viewers watched and decided who stayed or went home. The first season was a ratings flop. Yet CBS stuck with it, bringing in new producers and modifying the format. Nineteen years later, that show — Big Brother — is a staple of the Eye's summer schedule.