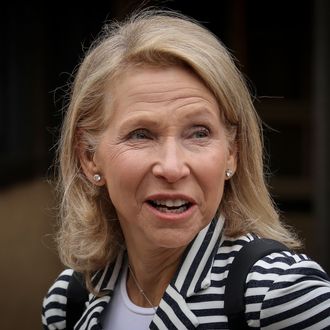 Shari Redstone, very rich person.
Photo: Drew Angerer/Getty Images
In an unsurprising announcement, CBS and Viacom announced a long-expected merger today. (The two companies have been talking about combining for years.) The newly formed company is worth $30 billion. Shari Redstone, the 62-year-old billionaire who holds controlling shares of both companies, will serves as vice-chair of the boards of directors of CBS and Viacom. Viacom CEO and president Bob Bakish will lead the combined company, while Joe Ianniello will serve as chairman and CEO for CBS.
"Our unique ability to produce premium and popular content for global audiences at scale — for our own platforms and for our partners around the world — will enable us to maximize our business for today, while positioning us to lead for years to come," Bakish said in a statement about the newly formed company. Its portfolio includes CBS, Showtime, Nickelodeon, MTV, BET, Comedy Central, Paramount Network, CBS All Access, Pop, and a slew of other holdings, including international platforms.
The newly combined company owns, to quote the press release, an "iconic library of 140,000+ premium TV episodes and 3,600+ film titles." In other words, a whole helluva lot of content. Which ViacomCBS is going to need if it's going to stay competitive in an economy driven by streaming services. The company boasts a 22 percent share of U.S. television viewers, according to Nielsen data. (For comparison, Comcast comes in second at 18 percent.)
A potential pairing of the two entertainment conglomerates has been in the works for months, and the rough outlines of a deal have been in place for weeks, according to numerous recent media reports. The merger is happening for one main reason: Both CBS Corporation and Viacom need to get bigger — much bigger — if they're going to have any hope of competing against either the new tech media giants, like Netflix and Amazon, or supersized old-school media companies, like Disney/Fox, Comcast, and AT&T-owned WarnerMedia. Whether through a bulked-up CBS All Access or some new platform, expect ViacomCBS to quickly move to use its new combined strength to design a streaming service better able to compete with both Netflix and soon-to-launch services such as HBO Max, Disney+, and the still-untitled ad-supported offering from Comcast's NBCUniversal.
And yet, even though this deal does give the new company more reach — CBS Corporation now has a slew of cable networks; Viacom has broadcast platforms CBS and CW — most Wall Street types will tell you that it's just a start. There's already been speculation that ViacomCBS will quickly begin seeking other small- to midsize entertainment companies to gobble up in order to get even more scale. Lionsgate and MGM have already been mentioned, and there's even been talk of Sony selling its entertainment assets, perhaps to ViacomCBS.
And once again … congrats to Shari Redstone.