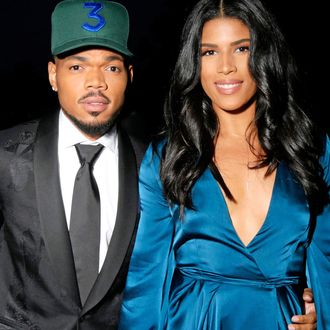 Chance the Wife Guy and Kirsten Corley, the wife.
Photo: Swan Gallet/WWD/Shutterstock
Knock, knock! Do you have a moment to talk about Chance the Rapper's Lord and Savior, his wife? Chance the Rapper does. He has many moments. After the release of his album The Big Day, which was directly inspired by his wedding day, fans and critics alike have firmly decided Chance the Rapper is now, in the parlance of our times, Chance the Wife Guy. Harsh, yes, but a fair punishment for the crime of waltzing right into our Hot Girl Summer talking about matrimony. In a Twitter thread posted Monday, the musician led his followers down an initially disturbing road about suicide, but that turned out to be a misdirect from the true message: Chance the Rapper has heard your Wife Guy memes, and decided to double down. (Meanwhile, some of us have Tinder Unlimited and an empty social calendar.)
In addition to his Twitter diatribe, Chance the Wife Guy (née Rapper) posted a snippet of his wedding video on Instagram, with the caption "SPAM THE COMMENTS BELOW. SAY 'I LOVE MY WIFE.'" The comments, of course, are filled with people quoting that "I love my wife" parody song, which may be a sign that Chance owes that guy a massive check — but that's for Chance's non-divorce-related lawyers to handle. Whatever Chance's fans were called before, they are now formally anointed as "the Wife Guys." You encouraged this behavior. This is what you get to live with.