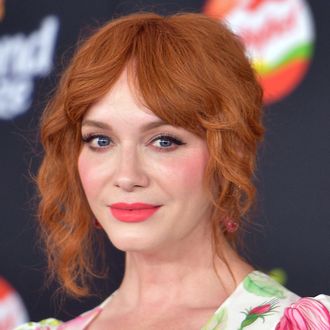 Photo: Matt Winkelmeyer/Getty Images
Stop the dang presses! Christina Hendricks was the hand in the American Beauty poster! How has she played this story so close to the vest before now? Hendricks has done presser after presser for Mad Men and Good Girls, holding back the goods until this very day? Incredible. Hendricks dropped the bomb on Instagram, revealing that her hand is holding the rose on "another model's stomach." If my hands were pretty, I wouldn't be able to stop talking about them. "These hands book, do you understand?" I'd wear elbow-length opera gloves, and remove one at every dinner party like Gypsy Rose Lee, just to give everyone a sense of drama in their life.
Besides the overriding question of "Why now?," we're left with one puzzling mystery: Whose belly is that? If Christina Hendricks was secretly a gosh-dang Zoolander's-dad-of-a-hand-model, practically anyone pale could be that tum-tum. Is it Jamie King? Tom Hiddleston? The mummified remains of Eva Perón? Only Christina Hendricks knows, and she's going to wait another 20 years to leak that info.