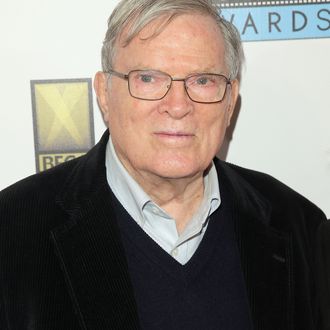 Photo: Jemal Countess/2016 Getty Images
Legendary documentary director and cinematographer D.A. Pennebaker has died at the age of 94. He passed away from natural causes at his home in Long Island on Thursday night, THR reports. Pennebaker, whose works include the seminal 1967 Bob Dylan documentary Don't Look Back and 1993's election doc The War Room, is survived by his wife and creative partner Chris Hegedus, their eight children, and their many grandchildren.
Pennebaker began his film career in the 1950s with experimental, music-driven documentary shorts, and his innovations in the "direct cinema" movement made him one of the key midcentury contributors to cinema verité. As Bilge Ebiri wrote in a Pennebaker profile for Vulture in 2015, the director's pioneering efforts included "building some of the very first 16mm sync-sound handheld cameras that allowed this kind of filmmaking to happen in the first place." Pennebaker is also considered one of the forefathers of the modern music video, due in large part to the iconic "Subterranean Homesick Blues" sequence in Don't Look Back. Pennebaker continued to explore music in films like 1968's Monterey Pop and the newly homaged Original Cast Album: Company (1970). Pennebaker received an Honorary Lifetime Achievement Oscar in 2013.
Reflecting on his early years as a documentary filmmaker at Life, Pennebaker told Vulture: "What I saw was the coming of a time when people knew people by what they saw in their home movies. It was like a new language. And I think in 20 or so years — because technology is still changing so much — people will depend on this kind of observance much more than anything we have."