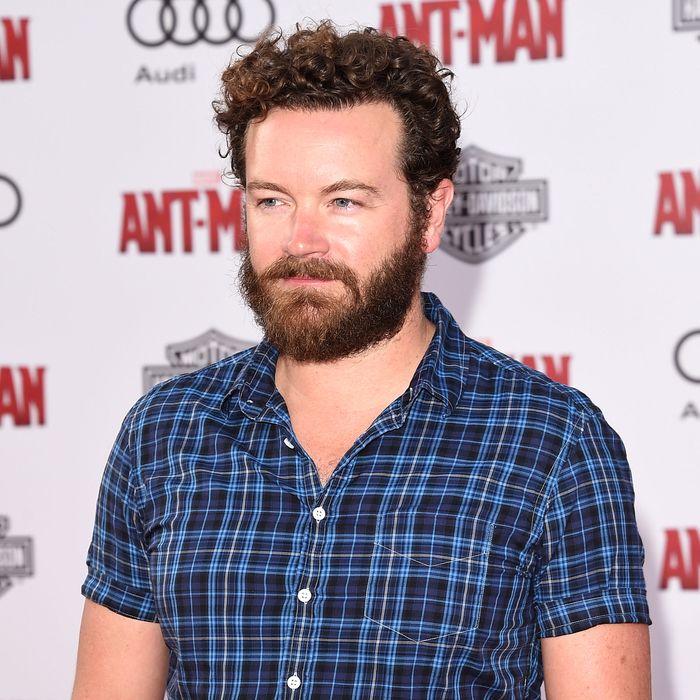 Photo: Jason Merritt/Getty Images
The Church of Scientology was named in a lawsuit yesterday in Los Angeles that accuses its leader, David Miscavige, and one of its highest-profile members, actor Danny Masterson, of covering up rape and/or sexual assaults and engaging in years of abuse, human trafficking, and intimidation. Today, both church leaders and the actor are responding to the news. Masterson said the lawsuit is "ridiculous." In a statement through his lawyers, he added, "I intend to sue her and the others who jumped on the bandwagon for the damage they caused me and my family." The Church of Scientology also released a statement today calling the lawsuit "baseless." The statement says, in part, "The claims are ludicrous and a sham. It's a dishonest and hallucinatory publicity stunt." This story is developing, but here's what we know so far:
Where did this lawsuit come from?
The lawsuit, which stems from sexual-assault allegations made against Masterson to the LAPD in 2016, accuses the actor, Miscavige, and the church of stalking and trying to intimidate accusers who have gone public and/or reported accusations to law enforcement.
At the time, four women accused the actor of sexually assaulting and/or raping them (three of whom were members of the church). One of the women, Marie Bobette Riales, says she began dating Masterson in 2002. She alleged that Masterson drugged her drinks on several occasions so that he could sexually assault her while she was unconscious.
Do we know anything about the other women? 
Another plaintiff, Chrissie Bixler, described Masterson as "controlling and violent" when they lived together in the 1990s. She claimed he dragged her naked across their bedroom floor, berating her for her appearance after she refused to have sex with him.
She also accuses the actor of drugging and sexually assaulted her when she was unconscious, and she says that when she alerted the church about the assault, she was discouraged from going to law enforcement and would be treated as an enemy to Scientology if she did.
In addition to Bixler and Riales, there are two unnamed women in the complaint.
What does this new lawsuit have to do with the rape allegations?According to the new complaint: "This case is brought … for the Defendants' conspiracy to cover up that Daniel Masterson sexually assaulted four young women. When those women came forward to report Masterson's crime, the Defendants conspired to and systemically stalked, harassed, invaded their family's privacy, and intentionally caused them emotional distress to silence and intimidate them."
The lawsuit goes into detail about the many different ways in which the accusers say the church, as well as Masterson, tried to intimate them into silence.
Have any of these women spoken out before?
Yes. Several women reported being assaulted to the LAPD. Attorneys representing one of the unnamed women, a former member of the Church of Scientology who worked directly with Miscavige, says she endured abuse from the church starting when she was just 6 years old. After leaving Scientology, she appeared in the docuseries Leah Remini: Scientology and the Aftermath, in which she also detailed her experiences.
She says that the church and its leaders have long used intimidation, stalking, harassment, threats, exploitation, and invasion of privacy to silence her and anyone who spoke out against them.
So what is the church accused of exactly? 
Overall, the church faces 14 different accusations in the lawsuit, including but not limited to:
• False imprisonment: Doe says her movements were restricted without her consent and that a combination of physical force and threat of force was used to physically detain her.
• Kidnapping: She claims she was relocated to a different location, also without her consent.
• Stalking: The church is accused of placing her and others under surveillance "with the intent to alarm, threaten and harass" on an ongoing basis.
• Libel: After she says the church publicly called her a "paid liar," "unethical," and "rampant[ly] promiscuous," her potential employment opportunities dried up.
• Slander: Similarly, the church is accused of making statements about her that were designed to have a negative impact on her public image and employment prospects after leaving the church.
• Invasion of privacy: She accuses church leaders of using her image (and the images of her family) to defame her/them publicly. The church allegedly created a series of blog posts and other online media that could be used in retaliation against anyone who went public with their stories about the church. The complaint says that Doe "reasonably feared for her safety and the safety of her family."
• Human trafficking: Doe say she was deprived of her personal liberty and subjected to "forced labor and/or services" by the church.
• Workplace violations: The church is accused of failing to pay minimum wage and provide time off according to the California state code.
The main focus of the suit, says Kent, is that church leaders and its members systematically silence and intimidate victims of sexual and physical abuse "by forbidding them from reporting their abuse to law enforcement and blaming the victims for the abuse they suffered."
What do the women want to achieve from this lawsuit?
The plaintiffs are seeking a jury trial and unspecified damages.
Have there been any other legal actions like this? 
This new complaint is actually the second in a series of lawsuits seeking to expose abuses within Scientology filed by attorneys in both Pennsylvania and California.
Have any criminal charges been filed?
Up until now, no criminal charges have been filed against Masterson, Miscavige, or the church, though the actor was fired from Netflix's The Ranch in 2017 after the sexual-abuse allegations surfaced. The LAPD has also confirmed that Masterson is being investigated.
What could happen next?
The lawyers representing the four women in this lawsuit are asking that others who may have also experienced abuse within the church or by Masterson come forward. It's not unusual for a lawsuit to prompt people to tell their own stories. If this happens, we could see more accusers coming forward and more lawsuits.
After this suit was filed this week, the defendants would have received a summons letting them know they were named. The defendants, which include the Church of Scientology, Miscavige, and Masterson, now have 30 days from yesterday to respond. Given their public responses today, we can assume that they will likely not settle and the case will move forward.
Next, a judge will be selected to preside over the case in L.A. and a court date will be set. This could happen in a matter of days, weeks, or months.
The outcome of the case will largely determine what happens next: if the case is dismissed, if the defendants will be held to pay, or if the defendants even decide to countersue as Masterson suggested might happen this morning.
Could Masterson face jail time?
He could — but not because of this recent lawsuit. This lawsuit is a civil matter, not a criminal one. For Masterson (or anyone from the church) to be at risk of criminal penalty, there would need to be criminal charges filed and a subsequent trial.
In this case, the goal seems to be to bring these allegations to court and to ultimately collect any financial damages.
What else do we know?
Remini is planning to air a two-hour special on A&E about the rape allegations against Masterson on August 26.
And Bixler says she is still being harassed by the church. Attorney Marci Hamilton, one of the attorneys representing the four women, says the most recent actions against her clients range from flashing lights outside a house to broken windows in a child's bedroom. "It's unsettling and it's disturbing," Hamilton told Good Morning America this morning.