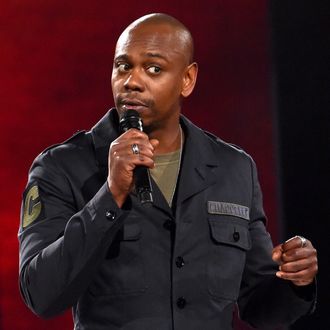 Dave Chappelle.
Photo: Lester Cohen/WireImage
Not long after making his Broadway debut, Dave Chappelle is returning to Netflix with the premiere of his latest stand-up special very soon — we're talking less-than-two-weeks-from-now soon. The streaming network announced today that Chappelle's new special, Sticks & Stones, will drop on Monday, August 26. It marks Chappelle's fifth Netflix special so far, following Deep in the Heart of Texas and The Age of Spin in early 2017 and Equanimity and The Bird Revelation, which were released on New Year's Eve at the end of that same year.
In addition to the Netflix special, it was announced back in May that Chappelle will receive this year's prestigious Mark Twain Prize for American Humor, which will be handed out at the Kennedy Center on Sunday, October 27, and later broadcast on PBS January 6, 2020. Veep star Julia Louis-Dreyfus took home the award last year.
Check out the first trailer for Chappelle's new special below, featuring the voice-over talents of Morgan Freeman: