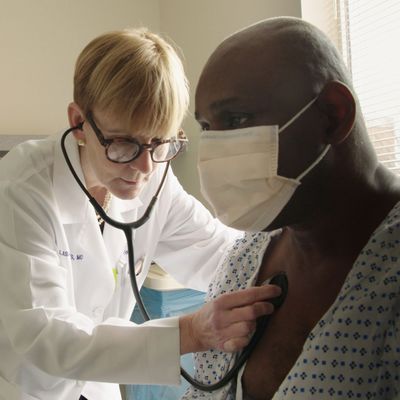 Dr. Lisa Sanders, host of
Diagnosis
, with a patient.
Photo: Courtesy of Netflix
Diagnosis, the new Netflix docuseries based on the New York Times Magazine column of the same name, is, at its essence, a medical mystery show. But it's also much more than that.
Presided over by Dr. Lisa Sanders, the Yale University School of Medicine clinician who writes the aforementioned column, Diagnosis is also an emotional, nonfictional drama that highlights the complexities of medical science, the flaws in the American health-care system, and the promise of both modern medicine and technology's capacity to connect patients with other people around the globe who recognize symptoms that may seem rarer than they actually are.
"I thought diagnosis was like the multiplication tables," Sanders says in the first episode, recalling her perspective on her profession as a young medical student. "Four times six — it's always 24. What I didn't know was, there's not one answer, but a dozen answers. I thought, Oh my God, this is not the multiplication tables. This is Sherlock Holmes."
That Sherlock Holmes element is one of the things that makes Diagnosis so compelling. All seven episodes of the first season introduce patients facing serious, debilitating health issues, from brain inflammation to frequent seizures to an inability to eat or drink without vomiting. In her columns, Sanders often attempts to crowdsource an answer to the most vexing illnesses she encounters. What the Netflix series shows us is what happens after that call is put out into the world: the theories that pour in from other doctors, researchers, and people who have dealt with similar complications, as well as what the patients opt to do with that information. While they attempt to sleuth out a solution, viewers try to put the puzzle pieces together, too. The experience of watching Diagnosis is almost the inverse of watching true crime. Instead of seeking an explanation as to why a person died, you consider the evidence that will lead to a treatment that keeps a person alive and thriving.
Diagnosis is not the first reality-based medical mystery show. There was Mystery Diagnosis, which aired on Discovery Health and, later, OWN before ending its run in 2011. It's not even the first reality-based medical mystery show with a crowdsourcing component. Chasing the Cure, a TNT/TBS production that debuted last week and is hosted by Ann Curry, collects theories and tests them during a live broadcast, an element that makes the show seem a bit gimmicky. Diagnosis, however, brings some much-needed sophistication and subtlety to the genre.
The Netflix series definitely appeals to the logical, scientific parts of the brain, but it also goes straight for the heartstrings. It is an uplifting show, though not in the ways you might think. While each episode follows the same structure, they are not formulaic, and not every one ends with a cut-and-dried happy ending. Dealing with an illness is messy and unpredictable, and Diagnosis reflects that. Sometimes, even after receiving information that could finally lead to a resolution, patients opt to postpone taking action. Sometimes they take action, but need more time to know for sure that their approach is working. Sometimes family members, who are supposed to be supportive, argue or disagree with the sick person, in ways that may even compound their symptoms.
The uplifting part comes from seeing how many people come forward from all over the world with a genuine interest in helping the individual who is suffering, and from seeing how those connections make a difference. As Sanders and several patients in the series note, a lot of doctors operate in a vacuum and like to think they know enough to make an accurate diagnosis. Sometimes doctors don't even take the complaints they hear seriously. Ann, a woman who suffers from partial facial paralysis, points out in the seventh episode that, like many women, she has frequently been told by physicians that her condition is all in her head. (Spoiler: It isn't.) Diagnosis makes a strong case that it doesn't have to be this way. Because of the internet and social media, medical treatment can be a collaborative, global effort, and the series strongly suggests that it should be. (Diagnosis also makes a strong case for the press's power to have a positive impact, which is heartening to see, given all the anti-media rhetoric that's in the air these days. It's also not surprising, considering that this series is produced in association with the New York Times.)
That collaborative medical approach works for Willie Reyes, a New Mexico veteran with brain lesions and inflammation that have caused progressive memory loss. Neither he nor his doctors had ever thought that his condition might be linked to his experience serving in the Gulf War in the 1990s, but through the crowdsourcing effort, he realizes that's an important clue. He also develops a connection with a fellow vet in Texas who's dealt with similar symptoms and offers him guidance and moral support.
Angel Parker, a Las Vegas woman in her 20s, has been suffering from progressive muscle pain and possible kidney problems for a decade, to the point where she regularly winds up hospitalized every three months. After Sanders takes on her case, she eventually finds her way to a team of doctors in Turin, Italy, who think she may have a genetic metabolic disorder and will see her at no charge. An Italian doctor explains to Angel, who is in major medical debt and has been sued by some of the American doctors unable to diagnose her, that Italy's health-care system provides free treatment because her possible disease is considered rare. That's one of the other things Diagnosis does: It reminds you of how health care should work, and often doesn't, in this country.
Diagnosis also frequently breaks your heart, particularly when it focuses on children dealing with illnesses. There are two episodes that fall into that category, including the fourth one, which follows Kamiyah, a 6-year-old South Dakota girl who frequently falls into a state of paralysis lasting as long as 30 seconds, then snaps right out of it. These episodes happen as often as 300 times per day and, in a particularly wrenching twist, seem to come on when Kamiyah is especially happy. "If that's what's doing it," says her mother, Breteni, referring to her daughter's joy, "I'm not willing to take it away." If you don't tear up at least once during this episode, you are a heartless tree stump of a person.
Eventually Kamiyah finds out her episodes are caused by a genetic mutation and that she is the first person to ever be diagnosed with it by the National Institutes of Health's Undiagnosed Diseases Network. That diagnosis provides an answer, but it also leaves Breteni unclear how she'll find treatment for her daughter if there's no one else like her.
"Who's going to care about the one?" she asks through tears.
I won't spoil the rest of the story, but what happens for Kamiyah and her family is a testament to what this entire series proves: that no matter how much you may be suffering in what feels like isolation, you are never alone. Not ever.