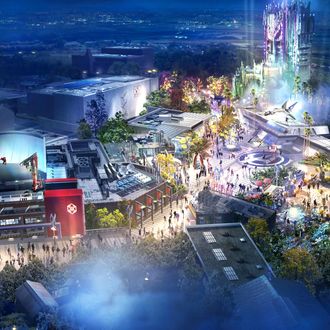 Moody night sky not included.
Photo: Disney
As if you can't walk into the Calabasas Erewhon and see any number of Avengers stars, Disneyland's California Adventure is getting an Avengers Campus land, complete with rides, food, and a meet-and-greet area. Bob Chapek, chairman of Disney Parks, Experiences and Products, announced the new project, which will take over DCA's a Bug's Land, at this weekend's D23 convention. (RIP Heimlich's Chew Chew train, the most fun you'll ever have going about .5 miles per hour.) Hong Kong Disneyland and Disneyland Paris will also get superhero-themed lands. "When guests visit Avengers Campus, they will become part of an interconnected, global story that spans from California to Paris to Hong Kong with the Avengers recruiting new extraordinary people to join them," says an official Disney Parks blog post. Guess that means you have to visit all three parks, oh no!
At DCA, guests can ride a new e-ticket attraction where they fly in the Quinjet with the Avengers to Wakanda. The land will also feature "WEB," Worldwide Engineering Brigade, which houses the very first Spider-Man ride. Sony and Disney drama aside, fans will finally get to experience what it's like to web-sling, as they help Spider-Man collect escaped spider-bots. At Pym Test Kitchen, Ant-Man and the Wasp will test shrinking tech on food and moms will regret not packing sandwiches. The Los Angeles Times confirmed in June that Disney has plans to build a microbrewery in the new land, because truly nothing says "campus" like craft beer. You and every disgruntled dad waiting for their partner and kids to get off the Little Mermaid ride (it's just the plot of the movie; you could watch that on Disney+!) will meet there in 2020.