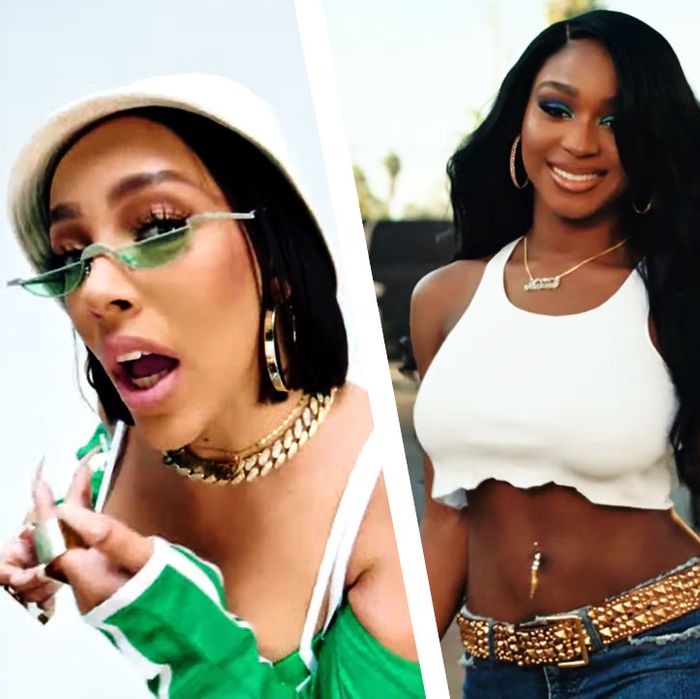 Well
excuuuuse
me.
Photo: Vulture and YouTube
Well, just when we thought every music video not creative-directed by god herself, Beyoncé, is just another [insert alcoholic beverage brand here], Beats, or TikTok commercial, a certain pop trifecta (from various parts of that world) unknowingly (hmmm) assembled to swiftly tell us to shut the hell up. Message received! This week, like every week, several music videos were released. Most, like every week, were tired. (This Brockhampton one has aliens and some cool camerawork, though. Snaps for that.) But then, at the eleventh hour, a rescue mission: Doja Cat, Normani, and Rosalía each dropped heat: Normani "That Bitch" Kordei with the choreography and reverence for her 2000s R&B foremothers. Doja "Mooo!" Cat with the assets. And Rosalía (no further explanation necessary) with the lewks. Let us take a closer look at how they put the rest of the business to utter shame this week.
Normani, "Motivation"
For her debut solo single, Normani did what she came to do. A (destiny's) child of the 2000s raised on a steady diet of 106 & Park, "Crazy in Love," "Goodies," Omarian, and J.Lo circa the "I'm Real" remix, Normani bottled all those influences, injected them into her veins, and said, "Yes, a star is born." Note the incredible feat of physics, editing, CGI, and whatever other wizardry it took to make that basketball bounce off her backside in perfect count with the choreo and annihilate some dude. Move out of Normani's way at all times!
Doja Cat ft. Tyga, "Juicy"
Truthfully, some of this is a TikTok ad. However, we'll allow it because Doja Cat is too creative, too bonkers, too much fun to let it be just a TikTok ad. No. This is a monochromatic Willy Wonka fever dream wherein Doja Cat is the whole snack. (It's also indebted to Missy Elliott, who continues to receive her flowers this year; we'll only deduct points for Tyga's unnecessary presence in this unnecessary remix.) It also doubles as an SAT question: Truly, how long does it take Doja to pull her pants up? Watch the video for, uh, research and do the math.
Rosalía ft. Ozuna, "Yo x Ti, Tu x Mi"
Some videos can just stand there and look pretty and still smoke the competition. Enter: Rosalía in all 700 incredible outfits her stylist (give them a raise!) pulled for her collaboration with urbano king Ozuna. If I told you the premise of this video was just Rosalía being Rosalía on a soundstage, in front of a bathtub, in a glass tank (???), hanging out of a sports car, and just generally luxuriating around a mansion, you would think … sign me up and that would be correct. There's no story here because the story is the clothes. They tell you everything you need to know: that Rosalía, beyond bringing neo-flamenco to the mainstream, is a visual trendsetter who will steal your runway, wipe her ass with your fashion editorial, and exhibit better taste than you at all times. (You're still DIYing flower crowns at brunch while she's out here in a flower helmet. Level up.) Anna, invite this woman to the Met Gala immediately!
(An honorable mention goes to Lil Baby and DaBaby [to most definitely be confused for each other] for the video for their song "Baby" [yes, really] and its lil' Scarface homage. They tried it.)
A round of applause for all.