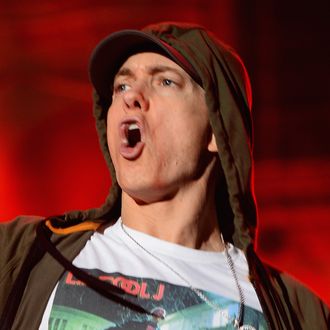 Photo: Theo Wargo/Getty Images
You only get one shot. Do not miss your chance to challenge the constitutionality of a law. Eminem's publisher, Eight Mile Style, is suing Spotify for what it claims is a massive breach of copyright. According to The Hollywood Reporter, the suit could cost Spotify billions. Eight Mile Style claims that Spotify has been streaming "Lose Yourself" and 250 more of the rappers songs despite not having a license to do so. "Lose Yourself" and its kin have been lumped into a category called "Copyright Control," which is only supposed to be used if the copyright holder cannot be identified. Eight Mile claims that categorization is "absurd," as the 8 Mile song is one of the most recognizable on the planet. "Spotify has not accounted to Eight Mile or paid Eight Mile for these streams but instead remitted random payments of some sort, which only purport to account for a fraction of those streams," the complaint reads.
The suit also challenges the constitutionality of the Music Modernization Act (MMA), which was designed to help tech companies while also getting artists paid for their work on streaming sites. It was signed into law by Donald Trump in October last year. The law will match songs to their songwriters through the Mechanical Licensing Collective. Through the collective, blanket licenses will be obtained starting in 2021. In order to get streaming services onboard, the MMA created a deadline to sue for copyright infringement. "Those who didn't sue by the end of last year were out of luck (which explains why Tom Petty's publisher Wixen filed a since-settled case against Spotify on New Year's Eve)," says the Reporter. This deadline and denial of retroactive profits is what Eight Mile Style argues is unconstitutional. Does this mean there is a slight chance Marshall Mathers will testify before the Supreme Court? Only time will tell.