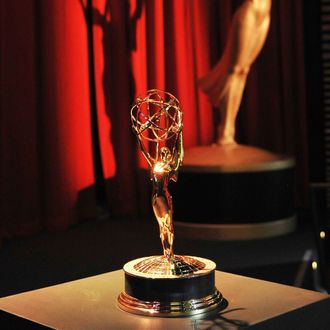 Very avant-garde.
Photo: Richard Shotwell/Invision/AP/Shutterstock
Hosts: Who needs them? It's much easier to just let a big awards show happen on its own. At a Television Critics Association panel today, Charlie Collier, CEO of Fox Entertainment, announced that this year the Emmys will go hostless. According to Collier, this is in part because so many TV shows are ending, and the ceremony will honor them instead. "What's interesting about this year is how many amazing shows were saying goodbye – Game of Thrones, Empire, Veep, and Big Bang Theory," he said. "You look at the tradeoffs and if you have a host and an opening number, that's 15 minutes you can't use to salute those shows … so we will go hostless this year and it will give us more time to honor those shows." The show has had multiple hosts many times in the past, and in 2008 ABC infamously had five different reality-show hosts emcee the event, but the last time it officially went host-free was back on Fox in 2003, when a bunch of comedians did the work of introducing and presenting.
This decision keeps the Emmys on trend with the Oscars, which went without a host this year after Kevin Hart stepped down from the role when his past homophobic tweets resurfaced. Collier, however, described a different situation that led to this decision regarding the Emmys, insisting that Fox did have names onboard as potential hosts, but never put out an offer to anyone and decided to stick with the hostless route instead. So, how do you commemorate the end of Game of Thrones in a live TV ceremony: Have someone come up and do stand-up? An "In Memoriam" montage for all the dead characters? Dream ballet?
How is the decision going down with people who've hosted awards shows in the past? Pretty well, apparently. "Right now, it seems like the Oscars went well without a host. I'm sure the Emmys will too," Amy Poehler said at another Fox TCA panel. "It seems cool not to have a host. Those shows are a beast, and I think the people who produce those shows have a very specific and hard job and I know they'll do a good job. It should just be a fun party. Think about how fun it is when you go to a party and you don't know who's throwing it. 'Whose house is this?' Your brain will probably decide who the host is." Think of it like Clue: Anyone could be the suspect!
Maria Elena Fernandez contributed reporting.