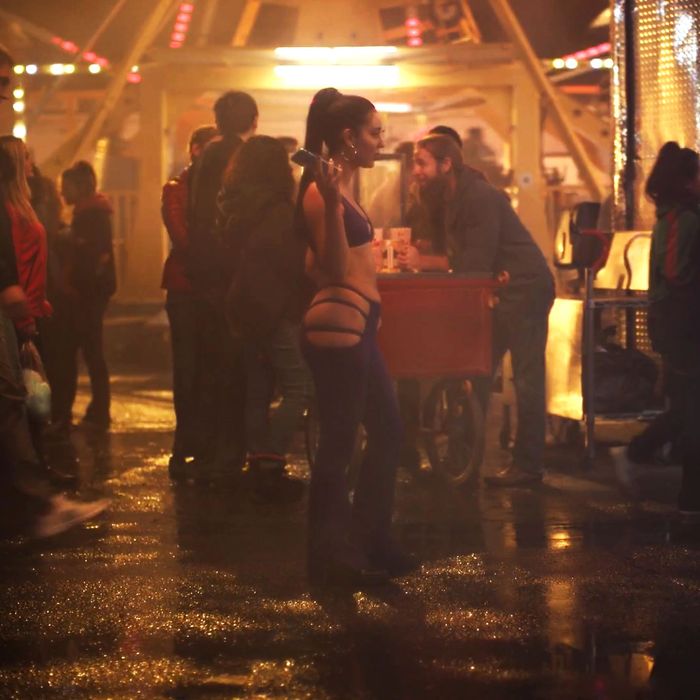 Maddy (Alexa Demie) and her
Euphoria
statement pants
.
Photo: HBO
In Euphoria's fourth episode, Maddy Perez (Alexa Demie) shows up to a carnival in a racy two-piece outfit that looks more like it belongs at a club in Atlantic City than it does at a high-school event. (Truthfully, we've all been there.) Upon seeing her outfit, her hotheaded, on-again, off-again boyfriend Nate Jacobs (Jacob Elordi) tells her she looks "like a hooker" in her crop top and matching spandex pants. But as I watched, I couldn't look away from those purple pants, which were fashioned with three string cutouts, like a triple thong. The thong wings plagued at me.
That's when I remembered another major moment in teen TV history: the iconic thong episode of Degrassi: The Next Generation. The 2003 episode, titled "U Got the Look," centered its plot on Manny Santos's (Cassie Steele) desire to go from "adorable" to "hot." So, naturally, she does what any teen would do: She shows up to school clad in a crop top, a pair of low-rise jeans, and a blue-studded thong (more than) peeking out of her jeans. And, like Maddy, she gets shamed for it, but the outfit eventually marks an empowering turning point when she starts to find her confidence and own her sexuality — a through line shared by Maddy and the young women of Euphoria throughout its inaugural season.
Years before Euphoria, Degrassi was the boundary-pushing teen drama of its era. The Canadian franchise, which has aired in various iterations for the past 30 years, became famous for its realistic, and often scandalous, plotlines featuring sexuality, drugs, abortion, abuse, and school shootings. Euphoria, which features provocative narratives ranging from a trans girl being raped by her classmate's dad to a character finding confidence by being a cam girl, owes its ability to tackle such taboo teen story arcs to Degrassi. Manny's thong, alongside countless other Degrassi moments, paved the way for teen dramas to get bolder, racier, and more complex.
"I feel like we were pioneering … that's why shows like [Euphoria] can be extreme as they are," says Yan Moore, a longtime Degrassi writer and producer. "We showed it could be okay to explore fairly extreme situations."
Since its inception, Degrassi's plotlines were less conventional than what network shows often featured; it created story lines that teens actually encountered in reality. The show's tagline was "it goes there," and it really did go there. Degrassi put its own spin on dozens of issues that other shows were too afraid to talk about: internet predators, teen pregnancy, self-harm, school shootings, and, infamously, abortion, in an episode that was shelved by its U.S. distributor, making it one of the most controversial of its time.
Taking cues from Degrassi, later teen dramas like Skins, Gossip Girl, The O.C., Pretty Little Liars, The Fosters, and 13 Reasons Why captured unsettling — and, at times, divisive — depictions of rape and suicide, while shows like Sex Education featured plotlines about homophobic violence and a true-to-life look at getting an abortion.
Based on an Israeli series of the same name, Euphoria is executive-produced by Drake, who famously (and coincidentally) starred on Degrassi: The Next Generation, however, it's mined from the experiences of showrunner and former drug addict Sam Levinson. But while Degrassi sometimes seemed corny and overwrought, Euphoria approaches serious and taboo topics with self-deprecating dark humor — the irony-tinged lingua franca of modern teen culture. All that explicit language and NSFW imagery likely wouldn't have been possible if Degrassi didn't pave the way for teen soaps, and Euphoria pushes what Degrassi started into the 2019 realm: a world where teens are immersed in a digital age that's blurred the lines of porn, sex, and consent.
It's something that encompasses the majority of the characters' lives on Euphoria. While Degrassi touched on a variety of rape scenarios, Euphoria instead explores the gray areas of consent in the #MeToo era. In episode one, without her consent, Cassie Howard (Sydney Sweeney) is choked by her partner Chris McKay (Algee Smith) while they have sex; Chris is mimicking a sex tape he and the other guys saw of her — one that she doesn't know exists. On Degrassi, it was scandalous when Manny's topless photo was leaked to the whole school, but on Euphoria, the idea is taken to an extreme that aligns with the digital age: a critique on dick pics (solicited and unsolicited), revenge porn, and sex tapes of teen girls being filmed without their consent. On Euphoria, Kat (Barbie Ferreira) is filmed on tape having sex and it's leaked to the entire school; earlier in the season, Jules (Hunter Schafer) is also filmed without her consent during a disturbing, sexually aggressive encounter with a Grindr guy named "Dominant Daddy," who treats her like a sex doll and pushes her face into the bed. (Dominant Daddy ends up being Nate's dad, played by Eric Dane.) Euphoria's sex, sexual assault, and porn-related plotlines are jarring, but they're aimed as pushing boundaries and sparking debate much in the same way that Degrassi did.
"It's good for kids to make shows about teenagers in each era, in each time, to have kids see themselves depicted onscreen because it's quite empowering in a way," says Moore.
While catfishing — via email and online gaming — was a recurring story line on Degrassi, Euphoria brings the subject into the modern era, exploring the complexities of finding intimacy on dating apps and in the cam-girl world. That means a lot of dick pics and a lot of incessant texting, but the characters also find intimacy in different places — some more unconventional than others. Kat may feel invisible at school, but she tries to shed her insecurity by becoming a cam girl online, where she puts down guys who jerk off to her (and buy her things). It's a wry role reversal: She's a teen girl catfishing grown men. At the same time, Jules routinely meets and hooks up with men off Grindr like Dominant Daddy, but she also finds what she thinks is love with a guy she's never met named Tyler. That turns out to be another case of catfishing, though, when she learns "Tyler" is actually Nate.
The boundary-pushing narratives in Euphoria go miles beyond Degrassi's story lines, showing how far teen dramas have come in terms of addressing realistic and often uncomfortable social topics. Euphoria's ability to be more explicit and tackle topics that are even more controversial than Degrassi's speaks to how Degrassi created a framework for all of today's provocative teen dramas. If Degrassi was still airing in 2019, it would almost certainly touch on difficult subjects like dating apps, intimate violence, and consent. Euphoria goes there — it's just a little different now.