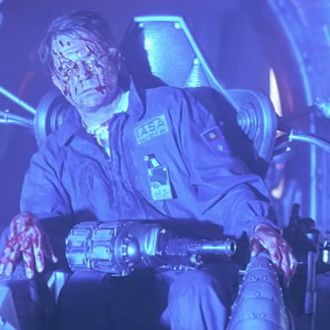 Photo: Paramount Pictures
The first time you experienced the trauma of Event Horizon, the 1997 sci-fi horror movie from Paul W.S. Anderson, were you thinking, "Man, if only this was eight to 10 more hours of relentlessly intense psychological torment and body horror"? Probably not, because you were begging for respite. But according to Variety, Amazon cares not about your need for relief and is instead developing an Event Horizon series with Adam Wingard set to produce and direct. There's no episode order yet, but the filmmaker behind The Guest and the upcoming Godzilla vs. Kong is working on it.
The cast of the original movie included Sam Neill, Laurence Fishburne, Joely Richardson, and Jason Isaacs, and it told the story of a spaceship called the Event Horizon that was testing out experimental engine tech when it disappeared from Earth's radar. Seven years after vanishing, the Horizon spontaneously appears once again in Neptune's orbit, and rescue ship is sent to secure what's left of the Event and its crew. The problem is that the ship's jump drive accidentally sent it to hell, and upon returning it brought all your worst fears along with it. This is the second spooky series in the news today from Amazon, with Nick Frost and Simon Pegg's Truth Seekers also being announced.