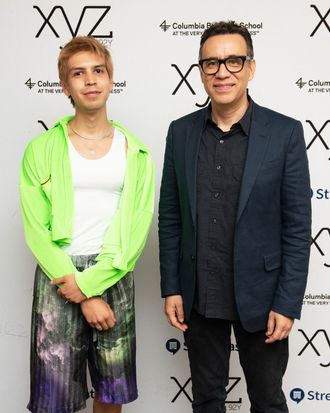 Julio Torres and Fred Armisen at the 92nd Street Y.
Photo: Noam Galai/Getty Images
Before Saturday Night Live writer-comedian and rising weirdo Julio Torres joined HBO's new bilingual comedy Los Espookys, he had one, not-at-all-intimidating, Canadian-American hurdle: Lorne Michaels. In a conversation with Los Espookys co-creator and co-star Fred Armisen at the 92nd Street Y on Thursday night, Torres explained that Armisen kind of "wrote the permission slip" for him to leave during a portion of SNL's most recent season to film Los Espookys in Santiago, Chile. "I had to email," said Armisen. "I didn't have to, but I emailed Lorne at least to acknowledge, 'Julio's not going to be coming —'" Torres interjected: "The boy will be coming with me. I am taking the boy abroad. The boy and I are going to Chile." When Michaels agreed, Torres remembered, "he said it would be very good for my studies."
Torres also looked back on watching SNL as a young child in El Salvador. "Our cable company ⁠— I think they illegally stole the signal from local NBC New York news. So growing up in El Salvador, I knew who Sue Simmons was and loved the Grand Prospect Hall ads as a child in Central America," he said, impersonating a much-younger Torres's slightly off impersonation of the ads' signature line: "I was like, 'What made my dreams come true!'" After that, he said he didn't think about the show for the longest time until he came to New York and started doing stand-up. When he made it to SNL, he was very lucky in the reception of his work from the writers' room and Michaels. "I would be like, 'Oh, this week I think it'll be a monologue of a sink. So what I contribute will be 20 seconds of a sink thinking it's too big. So that's what I'll be doing over here,'" he said.
Torres is having quite the summer. Los Espookys was recently renewed for a second season on HBO, and his first comedy special at the network, My Favorite Shapes, arrives on August 10. At 92Y, Armisen, whose mother is originally from Venezula and who briefly lived in Brazil as a child, said that because Los Espookys is bilingual, it's "really fulfilling that family obligation." Torres agreed, adding, "Yeah, it's the first thing that I've done that my mom can, like, enjoy."
Armisen, who speaks fluent Spanish on Los Espookys, was under the impression that he didn't have an accent while speaking Spanish, but Torres disagreed. "I know that you do," Torres said. But Armisen's not upset about it. "It's funny," he responded. "I think it's because when I hang out with my other friends, they're so impressed that I speak any Spanish. But it's all like restaurant stuff, like paella a hora. Do I sound like a tourist?"
"No," Torres said, "you sound like someone who speaks Spanish who is from the U.S."
"That's valid," Armisen responded.
Que bien.