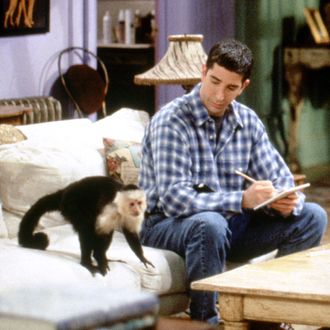 Katie as Marcel on
Friends
.
Photo: NBC/NBC via Getty Images
A-weema-weh, a-weema-weh, a-weema-weh, a-weema-weh. In the jungle, the post-apocalyptic jungle, Katie, the white-headed capuchin monkey and actress who played Marcel on Friends, might appear in FX's forthcoming adaptation of Brian K. Vaughan and Pia Guerra's popular comic-book series, Y: The Last Man, according to Hollywood Reporter. Y: The Last Man is a science-fiction series about Yorick Brown and his pet capuchin monkey, Ampersand, who survive a plague that killed every other male being on the planet. During the Television Critics Association summer press tour, FX CEO John Landgraf told THR that he recognized Katie, who plays Ampersand the adaptation titled Y, while reviewing dailies. "I recognize Jennifer Aniston, I recognize Courteney Cox, and I recognize that monkey!" he said.
Katie, who is now in her mid- to late-20s, has already filmed her part in the pilot, but it's unclear if her performance will make the final cut. In June, Eliza Clark was named as the new showrunner for the series, which has been in development for more than 15 years. Here's hoping the tokens-loving sidekick to David Schwimmer's Ross Gellar doesn't get scrapped for more Disney CGI.