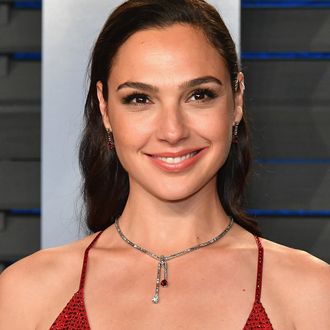 Gal Gadot.
Photo: Dia Dipasupil/Getty Images
Gal Gadot is in negotiations to star as Hedy Lamarr in a Showtime series dedicated to the Hollywood icon's life and career, according to a Variety report. Showtime CEO David Nevins wouldn't comment on the rumored series during a Q&A session at the Television Critics Association on Monday, but The Affair creator and showrunner Sarah Treem is reportedly lined up to write and executive produce the show, which would focus on the Austrian-born Lamarr, who not only starred in numerous classic movies (Samson and Delilah, Boom Town) but was also a noted inventor. A lot of actresses can get top billing on a marquee, but how many can also pioneer innovations in radio that help Allied forces in the war effort? It's a small club!
Update, August 19: Almost exactly one year after initial reports of Gadot playing Lamarr, Showtime confirmed today that she will executive-produce and take the starring role in a limited series about the life of the legend. The lofty series description says it will "explore the rise and fall of feminism in the American landscape during Golden Age of Hollywood and World War II, aiming to find, in Lamarr's life and legacy, clues for who we are now." So, lighthearted kind of fare!