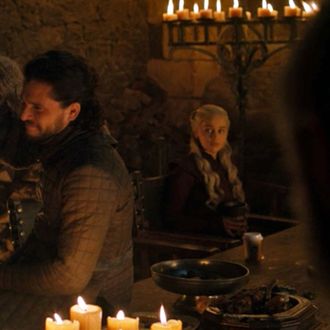 The infamous cup.
Photo: HBO
After coming out of their self-imposed, drunk exile (and dropping out of Comic-Con) to ignore your finale critiques, Game of Thrones showrunners David Benioff and D.B. Weiss did their first interview since the show ended in very meh fashion earlier this summer. While the duo didn't discuss the final season's lackluster reviews with Japan's Star Channel, they did admit the anachronistic coffee-cup snafu in the fourth episode was, somehow, a hoot to see unfold, and they still see its humor all these months later.
"It's tradition that you make a little mistake, because only God can do anything perfect," Benioff explained, comparing the error to crafting a fine Persian rug. "We were concentrating so much on Daenerys and Jon Snow that we just didn't see this coffee cup right in the middle. So at first I couldn't believe it, and then it was embarrassment; 'how did we not see this coffee cup in the middle of the shot?' And then, eventually, it was just funny. This one is just a mistake, and it's kind of funny to us now." HBO would go on to digitally edit the craft-services cup out of future airings, at an unknown cost to the network.
Elsewhere in the interview, Weiss admitted he was a bit surprised by Thrones' record-breaking Emmy nominations for its final season, but was thrilled that the cast and crew got to end their reign on a high note. "It's just a great excuse for everyone to get drunk again," Benioff added. Congrats.