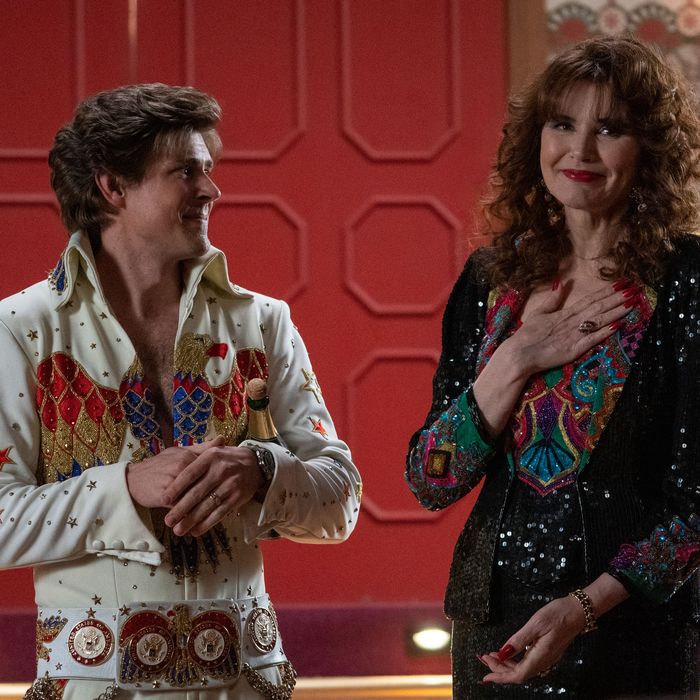 Photo: Ali Goldstein/Netflix/Ali Goldstein/Netflix
In season 3 of Netflix's GLOW, the Gorgeous Ladies of Wrestling have traded motel living and K-DTV for the bright lights of Las Vegas, which means the shoulder pads are bigger, the patterns are bolder, and sequins and feathers are a must. And not just in the ring: Performing off the Strip at the fictional Fan-Tan hotel and casino gives the Gorgeous Ladies enough disposable income to shop their hangovers off during the day and party in new outfits by night, and thus gave GLOW costume designer Beth Morgan the opportunity to explore the full range of the '80s Vegas sartorial aesthetic.
That range is further expanded via some new characters, including Geena Davis as the glamorous Sandy Devereaux St. Clair, a former showgirl and now entertainment director at the Fan-Tan hotel and casino, and resident drag queen Bobby Barnes (Kevin Cahoon), whose closet is packed full of divas, which leads to some surprising acts of self-discovery through costume.
With GLOW season 3 currently tearing up Sin City, Morgan walked Vulture through some of the definitive looks of the Gorgeous Ladies' Vegas adventure, sharing how she paid homage to iconic costume designer Bob Mackie and the '80s drag scene, and breaking down the many costume swaps of the standout "Freaky Tuesday" episode.
Note: Spoilers for both the costumes and plot of GLOW season 3 lie ahead.
The Bridesmaids
The Gorgeous Ladies' bridesmaids costumes were initially a last-minute addition to Rhonda's (Kate Nash) nuptials in the season 2 finale, "Every Potato Has a Receipt" (for which GLOW recently received an Emmy nomination for Outstanding Period Costumes). Morgan pitched the idea to co-creators Liz Flahive and Carly Mensch because, she says, "Bridesmaids dresses from the '80s are so unbelievably ridiculous." Despite having less prep time to create the explosion of gold, pink, glitter, and ruffles, it all came together, which is why Morgan describes it as her "favorite episode of TV I've ever designed because it was a really collaborative process."
These garments weren't the easiest wrestling outfits to engineer, so she was glad it was a one-and-done for the season finale — or so she thought. "We were never supposed to see these again," Morgan laughs as she recounts finding out that the bridesmaids would be part of GLOW's Vegas spectacle in season 3. But Flahive and Mensch told her, "It was too good, we couldn't help it."
Going Out in Vegas
Last season, Bash (Chris Lowell) and Debbie (Betty Gilpin) were able to up the decadent sartorial stakes, but everyone else was on a budget; Morgan wants to keep the characters' clothing as authentic as possible, and that includes repeat outfits. Even in the series' third year, Ruth still wears a sweater she had in the pilot. However, the move to Vegas called for principal and background actors to wear more elevated attire with a lot more sparkle.
"Where do we find 700 cocktail dresses to rotate?" was a question Morgan had to find the solution to. Luckily, clothing from this period is still readily available. The cocktail dress treasure hunt proved to be successful, with garments coming from a combination of LA rag houses, Etsy, and flea markets at the Rose Bowl, Pasadena, and Long Beach. Thrift and vintage stores in Los Angeles were also scoured, but as they are so curated, the pieces were too expensive to justify for background.
Showgirl Splendor
On a research trip to Vegas, the writers discovered that showgirl creations by costume-design royalty were sitting in storage. "Part of the reason why I got into costume was Bob Mackie," Morgan explains when discussing this serendipitous moment. This season of GLOW gave her the opportunity to not only pay homage to his work, but also feature pieces designed by the household name.
Opening in 1981, Jubilee! and its showgirls were a Las Vegas institution. Initially, these garments were simply going to serve as research for Morgan and her team: "I just wanted to see how they were crafted because it's not often that showgirl pieces are made and it's a dying art."
Morgan is proud of the two showgirl costumes she custom-designed — resident GLOW costume designer Jenny (Ellen Wong) is in awe of the blue feathers in the first episode — but is aware of the budget limitations she was working with in comparison to a production like Jubilee! The originals cost $1.5 million, so getting the chance to rent 30 to 40 of Bob Mackie's creations was a dream come true. "We are the only show that's ever been able to rent stuff, because Jubilee! recently closed," she says of this TV first.
The rented garments take center stage on a number of occasions. One notable moment comes in the third episode when Ruth (Alison Brie) attempts her best showgirl shimmy in an effort to cheer up Debbie. "We couldn't have afforded to make that headpiece for Ruth," says Morgan. "We really wanted to showcase the opulence of Vegas. Being able to rent the Jubilee! pieces really helped us tell that story."
In the scene, Debbie quips that Ruth looks like a "band nerd in a giant hat" while describing her shirt as getting her "grandmother through the Great Depression." Since Ruth is always one to take a note to improve her performance, she ends up topless. (It is an established character costume point that Ruth typically doesn't wear a bra.)
Ruth's performance for Debbie gets the intended effect — laughter — but the real gasp-worthy showgirl moment of the season belongs to Davis' Sandy:
"The woman, the legend, the rhapsody in diamanté! Miss Vegas Showgirl 1962," announces Bobby when introducing the Libertine Gala special guest in episode 9. The crowd goes wild when they see Sandy in her original showgirl costume (that still fits her perfectly). In reality, this is head-to-toe Jubilee! (the only new addition is the pasties). Sandy makes sure she credits the designer, "Created by the master himself, Bob Mackie."
Morgan explains, "I felt really passionate about them having that line… it was such a great moment to be able to pay homage to somebody that we all appreciate; not only what he has done for design, but what he's done for the costume design industry."
Sandy Devereaux St. Clair
Sandy's showgirl moment is clearly a standout, but for the majority of her season three costuming reflects someone who has managed to pivot from a career on the stage in Vegas to the person in charge. Accordingly, she still wears clothing to accentuate her figure. "I didn't want to downplay that," says Morgan. "Even when she has on a boxy '80s suit with great shoulder pads," her small waist (belted by Chanel) is the focus.
Morgan describes Sandy's investment in glamorous clothing as a calculated strategy that has helped her rise to the top. Whether for work, opening night parties, galas, or funerals "she really understands how to read cues, read people, and dresses appropriately for that," she says.
Bobby Barnes
Sandy isn't the only new character having an impact this season. At the Icons drag show, Bobby Barnes as Barbra Streisand reads the room, making a connection with Sheila (Gayle Rankin). Later in this same episode, his rendition of "Yes" by Liza Minnelli hits too close to home for Bash. Morgan notes these particular looks are all in the script, which laid out how instrumental Liza would be later in the season. "It really was the writers really considering what in those performances would then fit in the dialogue and help push the story forward," she says.
The Libertine Gala
In season 2, Florian (Alex Rich) died off-screen of an AIDS-related illness, and despite Bash's best efforts, this epidemic cannot be ignored. Late in season 3, this storyline comes back into focus at the Libertine Gala, a benefit to raise money for local AIDS groups. As the host, Miss Bobby Barnes kicks off the show with a Requiem for Evita, wearing a white frock inspired by Patti LuPone's iconic Broadway performance.
Morgan wanted to ensure she was doing justice to the underground gay culture of the era, so she consulted with someone who was part of the scene. "It's a perspective that I'll never fully understand because I didn't go through it," she explains. A time of intense grief, fear, and misrepresentation, there is still an element of fun and celebration. Or as Morgan was told during her research: "We were dying and partying, we didn't know what to do. We just kept on partying."
This whole episode is a costume masterclass featuring plenty of surprises from the main cast, including the aforementioned Sandy reveal, as well as Debbie in top hat and tails.
Morgan wanted to honor the artistry of this community, so they put out a casting call for performers in Los Angeles who had their own homemade costumes. "I wanted it to feel like this is a person that over years has curated this persona for themselves," says Morgan. "There's a truth to it when you're getting the actual person. Of course, we can do it as costume designers as well. But I wanted to really showcase people in the community."
Mr. and Mrs. Bash Howard
Rhonda's marriage to Bash expands her wardrobe in a big way. Before this, Morgan describes her look as "what she thinks American fashion should be." In preparation for Rhonda's season 3 costuming, Morgan asked, "When you now have an endless supply of money and you're in a town that does lend itself to be a little bit over the top, what would you be buying?" The answer is garments that are "quintessentially '80s," but even more ridiculous. Another factor is Bash's mother, Birdie (Elizabeth Perkins), who visits midway through the season and influences Rhonda's wardrobe. "She is trying to take things through the lens of Birdie but she still is who she is. So it is tweaked and off a little bit" says Morgan.
In previous seasons, Bash has worn a number of flamboyant leisure suits, and while his fashion game is still strong, his wardrobe evolution takes his marriage to Rhonda into account, as well as his reaction to Florian's death. Morgan reflects on how this changes Bash this season, saying "I did want him to be a little bit over-masculine compared to what he had been before. What is his version of that?" She also looked at how Bash would interpret his role as a Vegas producer, so this is "his version of the power suit and a little bit of a Western bolo tie," she says. He does still lean into excess with his choice of accessories, though, Morgan notes: "He wears a tie bar, a tie pin, and cufflinks. How much can you add?"
Justine
Later in the season, Justine has her own moment of professional triumph as her script is optioned. Her look in this moment mirrors that of her father Sam (Marc Maron), who she is trying to emulate, but it's actually Amy Heckerling who was the biggest motivator behind the new filmmaker's style.
"I had the joy of working with [Heckerling] last summer," Morgan says. "She was in a similar role to what Justine is going through. Justine is so young and a woman. What would she have put on as a form of elevating herself or armoring herself to fit into this older white man's world?"
Liza!
One character who experiences a huge style evolution this season is Sheila, whose entire persona, both in and out of the ring, has been her wolf costume — that is, until "Freaky Tuesday," when a last-minute decision to switch costumes leads to a defining moment in Sheila's arc. Instead of wearing a pre-existing look from the Gorgeous Ladies show, Sheila borrows Bobby's Liza wig and a version of the red dress Minnelli wore in the 1972 TV concert Liza with a Z.
At first, Morgan toyed with the idea that Sheila would use her co-workers' wardrobes as her own dress-up box: "We have 15 girls, we have every archetype from the '80s in our show. Does she try a little bit of everything?" Instead, they gave her a clean slate to emphasize her desire to be taken seriously as an actress. "She could be in class and she could really morph into the character she's performing," Morgan explains. "We also wanted to show the softness of Sheila because she has been so hardened and guarded for so long," she adds.
Switching It Up
Wrestling scenes take a backseat for much of this season, as the Gorgeous Ladies have slipped into a nightly performance routine. To reinvigorate the performers — and to help with Tammé's (Kia Stevens) debilitating back pain — a character switch is suggested. This bizarro version of GLOW lets us see what could have been, an experience Morgan attributes more to the actors than the costumes. "To see how Debbie plays Zoya, how different it could be is a testament to casting," says Morgan. "Everything would be so different if people were cast differently"
Indeed, the "Freaky Tuesday" switch-up didn't require a ton of extra work for Morgan and her team. "We did not [make new costumes]," she says. "We intentionally wanted to use their actual costumes." Rather, they let the dialogue and visual clues do the heavy lifting: "Obviously Ruth is not as busty as Debbie so she sticks something in her bra. Carmen's [Britney Young] skirt is going to be a little bit big on Rhonda, we'll just tie it," she explains.
Rather than making new costumes the characters themselves wouldn't have time to create, Morgan says "We came up with a clever solution that can then be scripted; Dawn's [Rebekka Johnson] pants don't fit, what does she do? She keeps on her leggings. We really believe in keeping it as true to life as possible."