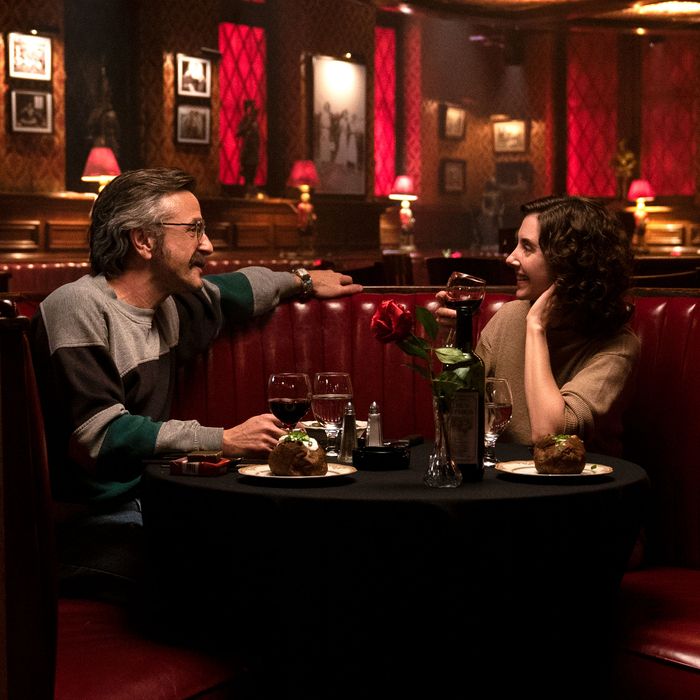 A rare day off from the show means a day off for the usual structure of a GLOW episode, with pairs and trios of characters pretty much siloed in separate storylines to work through conflict and progress their relationships! (It's … not as clinical as it sounds.)
Bash and Rhonda are, we learn, having acrobatic and apparently satisfying sex. (Bash may be slightly bewildered? But maybe that's just his sex face, regardless of his partner.) Later, he's excited to take her to the Hoover Dam, but she almost immediately makes him stop so she can lean over her door and puke. He's disappointed when she begs off to go lie down, but cheerily returns with a pregnancy test. Rhonda tersely says she's not pregnant; she's had an IUD since she was 17. (Bash, definitely bewildered: "An … IU —?" Let's assume, given everything, that they use condoms, but the fact that the subject of pregnancy prevention hasn't come up until now is noteworthy.) Rhonda tells Bash it's a migraine; she just needs to sleep and it'll go away on its own — but then so does Bash, which Rhonda doesn't realize until she hears the door close behind him. Bash goes straight to Carmen's room to tell her that the family he grew up in was so cold that sick members were left to suffer alone; he doesn't know how to take care of Rhonda, and asks Carmen to do it. Disgusted, Carmen reminds Bash that Rhonda is his wife, and lets him know how hurt she is since her two best friends — Rhonda having been her roommate at the motel — ditched her for each other. Bash was, of course, oblivious about Carmen's feelings, and thus has little idea how to make things right with her. But he does go explain to Rhonda about his lack of experience as a caregiver; she arranges him next to her in bed and places his finger on the precise spot on her temple she wants him to press on, and as a lifelong migraine-sufferer, I feel very seen.
Yolanda and Arthie's sex life, on the other hand, is going great … depending on whom you ask. Arthie is apparently very skilled at going down on Yolanda, but has no interest in having Yolanda reciprocate (and we see Arthie's face as she happily settles down to sleep, so that we know she's not harboring any worry or resentment about it). Yolanda decides to use their day off to go get a haircut; her stylist can tell she's stressed, guessing it's about a boyfriend, and since it's 1986, Yolanda plays the pronoun game to complain that "he" is uptight in bed. Then Arthie appears, and the two have a proxy fight about Yolanda sneaking out on Arthie, and Yolanda's frustration with Arthie's lack of sexual experience. Yolanda stomps out of the conversation and back to their room; when Arthie returns, she thinks they broke up, but Yolanda says it was just a fight, and they talk about the lack of give and take, as it were, in their sex life. Arthie admits that she doesn't feel sexy; Yolanda counters that Arthie's so sexy that, when they're together, she just wants to pin her to the bed. Arthie tells her to hurry up and do it before Arthie gets in her head, and some routine wrestling moves take a sexual turn.
Debbie is using her time off to return to L.A. and see Randy. Since she's bringing him a Teddy Ruxpin that she needs Brenda, the flight attendant, to stow for her, their chat briefly turns to working-mom guilt, with Brenda giving Debbie a wing pin to pass on to the baby Debbie's just told her is only 10 months old.
Brenda is working Debbie's return flight, too, and fully judges her for the "quick trip home" and a work schedule that permits Debbie to see Randy only one day a week. Ashamed, Debbie tries to correct her, but when Brenda's gone to get her drink, Debbie turns to her male seatmate (who doesn't get a name, but who's played by veteran character actor Toby Huss and thus, one assumes, may return after this episode). Once she's confirmed that he has children, she asks whether anyone ever asks him how much he's away from them. "Nobody ever asks me anything," he says, adding, "I'm not much of a talker." (Now I wonder if we'll eventually discover that Debbie is related to Vulture's own Kathryn VanArendonk, who recently tweeted her frustration that managing young children's time outside school is so little discussed as a stressor for parents, and personally pledged to "ask any male interview subjects with young children how they do childcare" from now on.) When Brenda returns, a galvanized Debbie tells her, "I know you're an incredible mom, but my kid is still a baby, and this is just — it's dangerous, so you can just keep your fucking wings." As Brenda hurries off, Debbie's seatmate cracks, "I think Brenda jumped out the airplane." "I hope so," Debbie replies. Honestly, same.
When Debbie returns to her room, she gets a call from Mark: Randy walked. ("He waited till I left?" Debbie weeps. Mark: "Debbie, he's a baby, not Michigan J. Frog.") Mark admits that he almost missed it himself, and when Debbie asks whether Susan, his assistant-girlfriend, witnessed it, Mark says she didn't; I assume this is a lie, and if so, good for him.
Maybe the reason these plotlines feel a bit like filler is that the episode is building to a big moment for Sam and Ruth, the former finding the latter wanting to talk about possible changes to the show. Sam is appalled (if unsurprised), and convinces her to let him set her day-off agenda instead. This involves sitting her at a blackjack table and staking her $20 so he can watch her play. On his advice, she wins her first hand, and before she knows it, two hours have gone by and she's won hundreds of dollars. She treats him at a steakhouse, where they toast to her being wrong about gambling, and to him being wrong about her hating Vegas. She does, in fact, love living at the hotel, and the UNLV library (classic Ruth). For his part, Sam has never been so responsible in Las Vegas; he's working on a new screenplay and enjoying the hot tub every night. "This has been the best day," Ruth beams. "Yeah," says Sam. She grabs his wrist, but it's to cover his watch and make him guess what time it is. As was the case at the blackjack table, she has no idea how much time has passed and supposes she needs to buy a watch; over her objections, Sam loans her his weird silver-and-turquoise cuff until then. Both Ruth's tiny wrists could fit in that thing at the same time, but sure.
Night has fallen and Sam is, as advertised, in the hot tub when Ruth comes down, inspired by his mention of it earlier. Even Ruth's mumsy one-piece can't stop Sam saying that, though he's trying to maintain boundaries both professional and friendly, she's making it impossible: "I mean, you have to know I'm in love with you."
Sam says he can feel it and say it and "still be a fucking grownup," but that Ruth makes it difficult when she does things like buy him a steak, say this was the "best day," and then get into a hot tub with him. Flustered, Ruth offers to leave, but that's not what he wants: "I want you to stop being an idiot. We're here! We're together! We should give it a shot! I think you want to." "I don't," she says. "I'm sorry if I misled you." Sam points out that they already have "what everybody else is looking for": They can spend hours together, both at and outside work, without his getting sick of her. Ruth, being Ruth, makes it clear she has already weighed the pros and (mostly) cons of Sam as a partner: He drinks, does coke, gets angry. "Said the perfect nun who gets in her pajamas at 9 and calls her boyfriend at 10," Sam spits. "See, you get mean," she replies. He corrects her: It's frustration. "Sam, I love working with you, and I don't want to ruin what we have," says Ruth carefully. "I'm telling you what we have," he shoots back. It's clear Ruth is running out of reasons not to consider this when she falls back on his age. "Is that what you were thinking about all day? When you looked at me? That I'm fuckin' old?!"
"Oooh! Hot-tub club!" calls Tammé, getting in and breaking the spell. Ruth says she was just leaving. "White girls can't take the heat!" Tammé shrugs. "Have a good day off?" Speaking as someone who truly loves Russell for Ruth but also can't deny that Sam's declaration was long overdue … I'll call it a mixed bag.