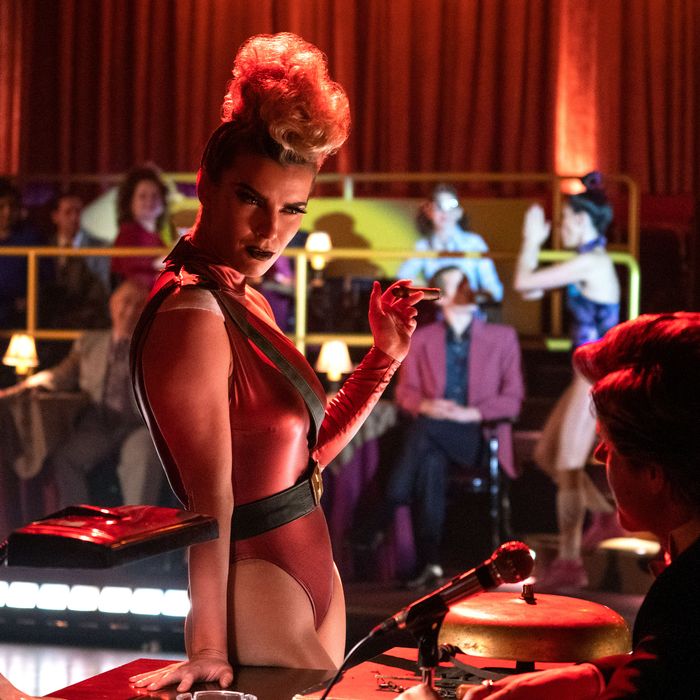 Remember Bernie from the premiere? It's okay if you don't, because now he's dead and, at a makeshift memorial at the Fan-Tan, Sandy is eulogizing the man who taught her to put Vaseline on her nipples, "so they always looked amazing." When Sandy has finished her remarks, she turns to the GLOW delegation of Rhonda, Bash, and Debbie: "Bernie always said, 'Talk to people when they can't say no to you,' so in his honor, I would like to extend GLOW's contract until the end of the year. Keep you part of the Fan-Tan family." Though Bash is ready to accept on the spot, Debbie stops him from doing so, and after Sandy has gone, Debbie tells Bash that just three months of living this far from Randy has already been "brutal." Bash snits about the "amenities" that have made her time in Vegas more bearable, whereupon Rhonda hisses at them that they're basically at a funeral, and the matter is tabled for the moment.
Debbie isn't the only one eagerly looking forward to the end of the run: Tammé's back hasn't gotten better on its own, and though she's been self-medicating with red wine and Motrin (as we see in a sequence paying homage to All That Jazz), it's so wrecked that she puts it out with a sneeze. Reggie calls a masseuse to the room, but Tammé's in so much pain that she can't even get on the table.
Meanwhile, Justine has come to spend spring break with Sam. He's finished his screenplay, Paterfamilias, and is about to present it to her when she announces that she has finished her screenplay and asks him to read it, demanding total honesty, taking off so he doesn't read it in front of her.
Debbie finds Sandy killing a bottle of gin in the empty GLOW showroom. After some pleasantries about Bernie, Debbie admits, "Your offer is like dropping an atom bomb on my life." "You're telling me you didn't have a plan for if your show would be successful?" Sandy asks. If Debbie was hoping this interaction would end with Sandy withdrawing the offer, she is mistaken; in fact, Sandy muses that she should come see the show that night!
Meanwhile, Bash finds Sam at the bar and hands him a slip of paper on which he's written the figure Sam will make if the show's extended; he wants Sam to help him talk Debbie into accepting. Sam doesn't want to get in the middle, but Bash wheedles, "Come on, man, this is why I kept you around." Sam narrows his eyes: "See, I thought you kept me around to direct … I'm not your fucking butler, you know? You can't pay me to be your friend or to agree with you or to tell you how fantastic all your ideas are." Furious, Bash makes it personal, spitting that Sam is on a "paid vacation," writing another screenplay that will never go anywhere: "You're lucky to have this job, and you should have my fucking back on this."
Whatever the masseuse was able to do for Tammé on the floor hasn't put her back into (literal) fighting shape, so when Stacey comes into the dressing room before the show with her Biddie character's walker, Tammé gets an idea: What if they trade roles for the night? Shrewdly, Debbie gets onboard — "It's the last week," after all! — and touches off a frenzy of part-swapping negotiations (and Carmen's announcement that, unlike everyone but Cherry, she can safely play Welfare Queen because she's half-black). Melrose pitches a Jewish Liberty Belle, but Debbie declares that if anyone's going to play her, it should be Ruth; Debbie will play Zoya. Though Ruth initially objected to the scheme with actressy bullshit about finding the truth in their characters through repetition, she can't resist.
Showtime! Justine takes her seat at the VIP table with Sandy, excited to see Sam play the ref, and then Bash opens the show …
… And is utterly thrown to see Tammé and Arthie playing the Biddies. Even with the walker, Tammé has a hard time getting to the ring, but there's no time to focus on that as Bash introduces the Red Scare: Debbie as Zoya, and Melrose going all in on her extremely racist take on Fortune Cookie.
Backstage, Jenny scrambles to get everyone fitted in their swapped costumes. Only Reggie and Sheila are left without new characters to play; Reggie digs through a bin of ancient Fan-Tan costumes, and Sheila departs, promising to make it back for her cue.
Back to the ring, where it's time for Liberty Belle to challenge Zoya. Ruth's take on the character is as a Nebraska farm girl with a Dorothy Gale accent; they go through all the moves we know …
… And seeing Ruth and her pigtails doing Liberty Belle's signature salute is adorable. Carmen is out next, and given the resentment against Bash that she expressed in "Hot Tub Club," she really seems to relish snatching the mic from him in character as Welfare Queen. "Fuck!," says a grinning Sam. "I feel like I'm on acid!"
Then we get a quick look at all the cast members in their swapped characters: Dawn and Stacey as Junk Chain and Beirut; Jenny as Britannia; Cherry playing/roasting Melrose ("I'm 50, but I act like I'm 19!"). Bash has stopped trying to keep up by the time he needs to introduce Melrose and Britannia's tag-team opponents, the first of whom turns out to be Reggie as a nun: "'Cause why not, nothing else matters anymore. And hey, since it's a tag-team match, maybe another wrestler will appear at some point." That's when the show room doors fly open …
… And there's Sheila as Liza Minnelli, straight out of "I Gotcha" from Liza With a Z. Who ever could have outfitted her thus?
Cut to Bobby, excitedly watching from the wings, surrounded by Sheila's co-stars, thrilled by the transformation. "She better not rip that dress!" Bobby worries. "But, you know, whatever it takes to win! That's what Liza would want." "I can't remember the last time I actually wanted to watch the show," Carmen marvels. A delighted Ruth tells Debbie, "This was a great idea."
If Debbie originally conceived this as a way to tank the show, she's purely loving it now, and so am I: This reminder of this cast's incredible skill and versatility is truly exhilarating and the absolute greatest moment of season three thus far.
Debbie races backstage before her zip-line stunt to find Tammé bent over a chair, halfway dressed in her finale bridesmaid look but sobbing too hard in pain to finish. Debbie demands to know how long Tammé's been injured; Tammé says, gasping, "It's only four more shows!" She tells Debbie not to worry about her and go close the show, and as much as I love this episode, the one thing that could have made it even better would have been seeing Debbie zip into the ring.
Afterward, everyone's still electrified. Sam finds Ruth backstage and thrills her further by asking her to read something.
But it's not his screenplay. It's Justine's; he wants Ruth to read it and see if she concurs with his assessment on it. (I hope he practices impeccable op-sec on this so that Justine never finds out he did it without her permission.)
Speaking of Justine: She's out front kvelling about the fact that she got to see the show on a night when she, better than anyone else in the crowd, could really appreciate it. Cherry is stretching Tammé while Debbie curses herself for not having noticed Tammé's pain when Bash enters with Sandy, who loved the show: "Keeping it fresh is a big part of live performance." "We did want to have some fun since, you know, we're on our way out," says Debbie pointedly. So Bash tells Sandy, in front of his co-producers and his entire cast, that they will accept her offer to extend the show. Sam tries to forestall panic among the wrestlers, who didn't know the extension offer had been made at all, by walking this back, noting that they haven't even had a meeting about it. Steely with rage, Bash says that, actually, they did: "I told you and I told Debbie. And we don't need a meeting to know that I'm the only one who cares about keeping the show alive." Debbie snaps that Bash just cares about shiny distractions like jugglers and magicians: "You sacrifice absolutely nothing for the show." Bash spits that it's his name on the marquee, not hers; putting up all the money for the show means it's his decision whether to extend the run: "And if you don't like it, feel free to get the fuck out."
This heel-turn from Bash is shocking to the cast even before he communicates how expendable he apparently thinks they are: "That doesn't work for you, feel free to go back to Los Angeles, but GLOW is staying in Vegas. CHEERS."