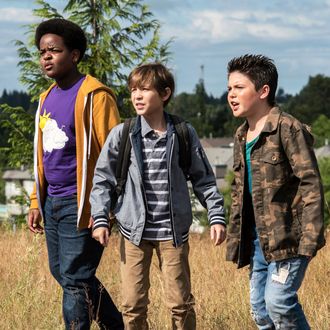 Photo: Ed Araquel/Universal Pictures
In case you were wondering how many people are in the market for an R-rated comedy about 12-year-olds, the answer is: more than anyone expected. According to the New York Times, the Seth Rogen–produced Good Boys came in at number one this weekend after earning approximately $21 million, the largest opening weekend for an original comedy this year. As Entertainment Weekly points out, though, Madea's Family Funeral still leads 2019 comedies after opening at $27.1 million.
The last R-rated comedy to top a weekend box office was Melissa McCarthy's 2016 film The Boss, which we are frankly shocked to remember is R-rated to begin with. Good Boys' budget was reportedly around $20 million, which still leaves those boys plenty of money for gummy bears or bottle rockets or whatever it is kids like these days. TikTok, maybe? We really have to see this movie and find out.