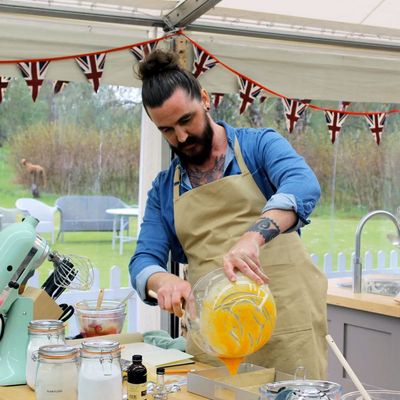 My fellow Americans: The time has come for us to commit ourselves completely to watching British people bake for their chance at a cake plate and nothing more. The Great British Baking Show — or The Great British Bake Off if you're nasty/watching outside the U.S. — is back, and for the first time ever, it will air week to week on Netflix, mere days after each episode's U.K. premiere. Are you ready? Let's do this!
If you recall, last season went completely off the rails when the producers decided to start with Biscuits Week instead of Cake Week, which sent them down a slippery slope toward forcing the final three bakers to make pita over a live fire. Those were dark times. But they appear to have come to their senses because this season — the show's tenth — is starting off with layers and layers of sponge, plus one extra baker. A baker's dozen. Get it?
Paul and Prue immediately point out that the presence of an extra baker means at some point, perhaps in episode one or episode seven, two bakers will go home. That means there'll be no barely squeaking by this season, and the bakers are appropriately shooketh. So shooketh, in fact, that Michael, a bespectacled Scottish contestant, immediately cuts his finger in the first five TV minutes of the competition, officially kicking off what we like to call Tape Watch™.
This injury takes place at the start of the first signature challenge: Fruit cakes! About half the bakers say they're using a recipe created by their mother, grandmother, or great-grandmother, which tells you a lot about the state of fruit cake right now, and all of them are using the same vaguely brown, orange, and yellow fruits: raisins, golden raisins, currants, etc. But not to worry, a few bakers came to make things interesting.
Rosie, a fast-talking veterinarian, is using dried fruit in her Spicy Chai Loaf to avoid any fruit sinkage. Alice, a geography teacher at an all-boys school, is making a Gingerbread Loaf that you can hang on your door for hungry but unwanted visitors. Dan, a man-bunned giant of a bloke who works with people with learning disabilities, is going for tropical flavors with a Jamaican Rum Cake, as is Priya, an aspiring novelist and mother of two, whose Sunshine Fruit Cake features dried papaya and pineapple.
A few counters over, David, a fitness-obsessed international health advisor, can't wait for Paul and Prue to taste his completely fatless Squishy Squashy Fruit Cake. "I love healthy baking," he exclaims. The cameras quickly cuts away before he gets into the life-changing benefits of intermittent fasting, and they land squarely on Helena, a What We Do In The Shadows cosplayer, who describes herself as Halloween-obsessed. Accordingly, her Fruit Bat Cake will feature a flying mouse with caramel wings. Oooh!
Meanwhile, Michael cuts himself again just 11 TV minutes in. And for possibly the first time in show history, we see the gloved hands of a GBBO medic. What must his or her life be like, standing by just waiting for amateur bakers to mutilate themselves in pursuit of a cake plate and literally no other reward? Please reach out so we can discuss.
Judging begins and — as always seems to be the case — Paul and Prue like the majority of what's presented. Prue is head over heels for 20-year-old Jamie's marzipan-heavy, Easter-Themed Cake. And even though English Lit. student Henry's royal icing house fell apart, the judges enjoy his Wood Street Cake, which is apparently based on a 400-year-old recipe. Amelia's naked fruit cake "screams Christmas," according to Paul. Priya, Steph, and Michael (now with three of the five fingers on his left hand wrapped) do pretty well, too.
At the bottom: Helena, who straight up forgot how to make caramel; Rosie, whose cake just looks bad and tastes worse; and Michelle, who is betrayed by her family's beloved, tough fruit cake. But it's Dan the Man-Bun Man who receives the harshest Cake-Week critique of all time: The inside of his cake is "raaaauw." A collective shudder moves through the room. He could have killed Paul and Prue.
Dan is ashamed, but he hasn't given up, though he's been humbled. Plus, everyone knows it's the Technical Challenge that separates the men/women/them from the boys/girls/them. It is the part of the competition that strips you of your ego, and Prue, who sets this week's challenge, admits that she's feeling "a little mean." Paul's eyes light up in a way that's not entirely unsexual. She's asked the bakers to create a tri-colored angel cake with genoise sponge (one of the hardest sponges to make) with buttercream and feathered icing.
Amelia, a 20-something from Halifax with pink ends and a can-do attitude, points out that you don't want to overmix a genoise sponge. Paul, a middle-aged father of two, agrees because doing so will give you a piece of rubber rather than a light, airy sponge. From the get-go, Jamie, who's spending his gap year on network television, is a complete disaster. He forgets to put the eggs in the sponge and decides to start over. The second time around, he messes up again. But because Jamie was raised on memes and Spongebob, he approaches the whole thing with a very laissez-faire attitude, laughing to keep from crying, which he refuses to do on camera.
Paul and Prue begin dissecting the cakes. Some have great flavor, some look pretty good, and a few have achieved the desired height. When judging Helena's cake, Paul jokes that he could drop it and it would bounce right back, which is the same joke Helena made five TV minutes back. Television magic? In the end, it's Jamie, Helena, and accident-prone Michael who fill out the bottom three, while veterinarian Rosie, college student Henry, and Steph of Britain's Biggest Bangs claim the top spots. Everyone begins to mentally note that they shouldn't sleep on Henry.
For the Showstopper Challenge, the judges ask the bakers to dig into the good parts of their childhoods and create the birthday cake they dreamed of as a kid. There are two fairy cakes, two pirate cakes, two book cakes, and a carousel cake. However, the real fun begins when the weirdo kids who became weirdo adults come out of the woodwork, like Healthy David, who reveals that he had a pet snake and plans on making a cake featuring a snake coiled around an egg of baby gummy snakes. Phil creates a cake modeled after the U.S. moon landing of 1969. Only Steph really digs into the trauma of childhood, with a cake meant to look like a fallen ice-cream cone.
Jamie and Dan both know this is their last chance to prove that they're worthy of being in the tent. Dan is making a Pirate Island Cake with a passionfruit curd, while Jamie is dedicating his cake to his family's schnauzers, with salted-caramel buttercream, salted-caramel sauce, and salted-caramel sponge plus little vanilla biscuits (for humans) that look like treats (for dogs). In the background of all this, Michael — who is … a lot — drops one of the sponges for his pirate cake. No one reacts and that's probably because the cake turns out to be totally fine.
When time runs out, there's a lot of fondant (disgusting) and underneath that, some pretty good cakes. Michelle beams as the judges tell her that her Fairy Carrot Cake is "faultless" and a far cry from that tough fruit cake in the signature challenge. Helena also manages to redeem herself and her bat cake with a stunning chocolate cake with dried coconut grass, chocolate bark, and chocolate buttercream. (The judges then tell Priya her chocolate cake would be good if it weren't worse than Helena's. Ouch.) Rounding out the top three is David, whose not-so-healthy chocolate-orange snake cake looks as good as it tastes. It's his first great bake after being solidly middle-of-the-pack until now.
The judges go on to tear Amelia and Phil apart, but each of them has done well enough to coast through to next week. So, it's down to Dan — the Thor-like baking god who loves to help people and has one blue eye and one brown eye — and Jamie, who thinks crying is "cringey." Dan unfortunately fails to escape the disgrace of having served raw cake and a somehow flavorless passionfruit curd. Plus, Jamie's dog biscuits for humans were pretty good, so he gets to stick around for another week. Dan cries openly among his fellow bakers.
And thus Cake Week comes to an end, leaving us extremely excited to see more bakes from Phil, Amelia, Priya, Michelle, Henry, and Steph, though we wouldn't dream of sleeping on David, Michael, or Helena, the anti-Kim-Joy. See you next week, when we dive headlong into Biscuits!