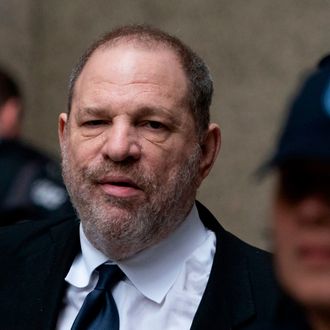 Photo: DON EMMERT/AFP/Getty Images
Sopranos actress Annabella Sciorra, who has previously accused Harvey Weinstein of rape, will not be permitted to testify at his upcoming sexual-assault trial in Manhattan, a new court filing indicates.
Weinstein is charged in relation to alleged nonconsensual encounters with two women, Mimi Haleyi and a still-unnamed accuser. The disgraced movie mogul faces two counts of predatory sexual assault, one count of criminal sexual act in the first degree, one count of rape in the first degree, and one count of rape in the third degree. He has maintained his innocence.
While Weinstein was not indicted in relation to Sciorra's allegation that he raped her in 1993, prosecutors filed paperwork earlier this year indicating they wanted to use her accusation at trial. By bringing up Sciorra's rape allegation, prosecutors could bolster their claims that Weinstein had a habit of engaging in sexually abusive behavior. Weinstein's lawyers fought prosecutors' attempt to use Sciorra's alleged rape during the case.
Justice James Burke, who is overseeing the case, decided August 8 against admitting Sciorra's allegation, saying prosecutors didn't have so much "leeway" that they could introduce "additional persons" during the trial.
Asked for comment, a spokesman for the Manhattan District Attorney's Office said, "We respect the court's ruling, which does not affect the strength of our case."
Weinstein's lawyers, Donna Rotunno and Arthur Aidala, praised the decision, saying in a statement, "The rule of law prevails in this instance and reinforces that the DA has to play by the rules and cannot circumvent the proper legal process."
Jury selection in Weinstein's case is scheduled to start the week of September 9.