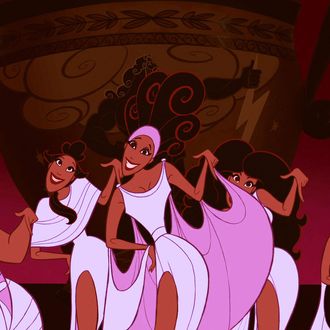 Photo: Buena Vista Pictures
Disney's best animated movie — do not fight me on this — Hercules is getting a limited run at the he Delacorte Theater in Central Park for a week beginning August 31. Free tickets are being distributed via digital lottery. Which you're probably going to want to enter repeatedly since, according to a report Friday in the New York Times, the show is getting some new songs from the movie's original composer and songwriter, Alan Menken. (Menken was also the mind behind The Little Mermaid, Pocahontas, and Little Shop of Horrors, to name a few of his credits.) He, along with lyricist David Zippel, have added five new songs to the original list of hits.
Director Lear deBessonet says the new additions are "some of their best work" and that they make her "cry," "dance," and "squeal." High praise considering the track list for Hercules is already damn near perfect. The muses, voiced by Lillias White, Vanéese Y. Thomas, Cheryl Freeman, LaChanze, and Roz Ryan, wailing on "Zero to Hero." Susan Egan's dreamy "I Won't Say I'm in Love." Roger Bart belting out "Go the Distance."
Bart, who served as Herc's singing voice in the film, will be back as Hades for the stage production. The god of the underworld gets his own song this time around, "A Cool Day in Hell." Menken told the Times it is his favorite of the new numbers. He also said the show has no intentions of mounting another run anywhere, Broadway or otherwise. If you win the ticket lottery and need a kidney, call me. We can work something out.
As a Hercules stan, I am both nervous and excited to see how, and, more importantly, if Menken can top himself. If … if is good.