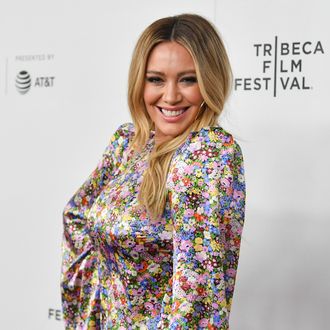 Photo: Mike Coppola/Getty Images for Tribeca Film Festival
Where is the album?! We need the damn album! Disney is burnin' up your dreams and using them to light the way at its new streaming platform. The company announced on Friday that not only would Disney+ feature a Lizzie McGuire sequel from series creator Terri Minsky, but also that the show's original star Hilary Duff will return to her titular tween role. According to Deadline, the revival finds 30-year-old Lizzie living in New York City 15 years after the end of the show, still joined by an animated version of herself providing a running inner monologue. Deadline also reassures Younger fans that Duff will be able to continue working on the TVLand show in addition to starring in the Disney+ series. The only thing left to give the fans? That's right: A new Hilary Duff album. Doesn't the new generation of Lizzie McGuire fans deserve its own "Come Clean (Remix 2005)"?
Update, August 25: In an interview with Good Morning America, Duff was nice enough to give us a few plot tidbits about what to expect with the show. "Her life is framed pretty perfectly," she teased about Lizzie. "She has her dream job as an apprentice for an interior designer, who is a pretty big deal, and she has a cute little apartment in Brooklyn." The premiere episode will start off with Lizzie celebrating her 30th birthday with friends, as well as her "gorgeous fiancé who is a chef" at a cool SoHo restaurant. "Obviously, nothing's going to go that perfectly the whole series," Duff added. "She gets some pretty big news at the end of the first episode."
Sadly, though, Duff also confirmed the worst thing ever: Lizzie and Gordo are not in each others' lives, and she couldn't reveal if the character (played by Adam Lamberg) or Lizzie's other pal Miranda (Lalaine) would return. "I have to play it coy, but there are a lot of surprises in store," Duff said. "Everyone's dreams are going to be fulfilled by going on the journey of the show." It's like that Rome kiss after that Colosseum concert meant nothing!