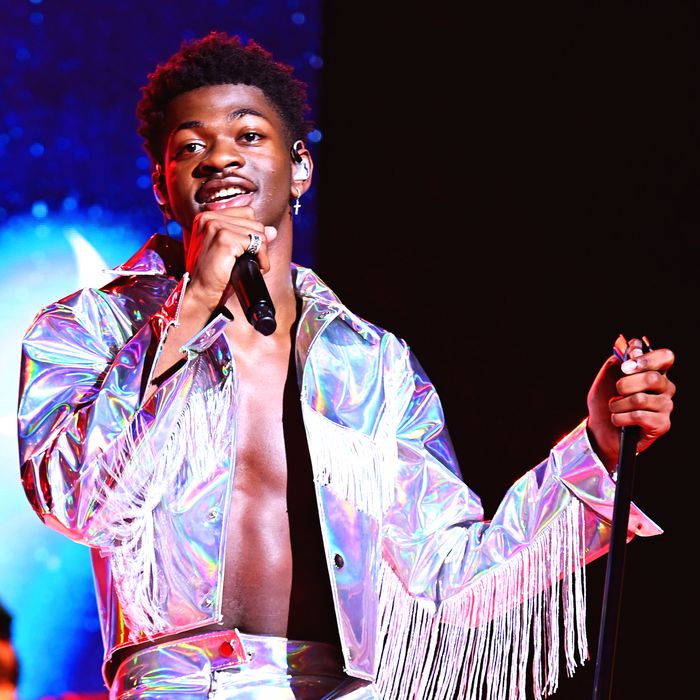 Photo: Noam Galai/Getty Images for BuzzFeed
Now that Lil Nas X's "Old Town Road" has broken the record for most consecutive weeks at the top of Billboard's Hot 100 chart, surging past Mariah Carey and Boyz II Men's "One Sweet Day" and Luis Fonsi and friends' "Despacito" in its 17th week as top dog, I want to welcome our newly minted kid overlords to the seat of music-industry power. "Old Town Road" is, beyond the sociopolitical implications we've spoken about here before, a movement running on kid power. It's a song about a video game whose lyrics are fleet and simple and whose running time invites repeat plays. That makes it catnip for the demographic being reared in the age of cloyingly direct tunes like "Baby Shark," a story song heavier on big melodies than any kind of detail about its characters. Lil Nas X's "Can't nobody tell me nothing" is an alluring line when your life is regimented to the socks, but all you want to do is watch cartoons and play with toys.
"I love that Lil Nas X is Crime Mob for kids," Kid Fury of the pop-culture podcast The Read said on Twitter last month, likening the spirited reaction of preschoolers and grade-schoolers to "Old Town Road" to that of teens and 20-somethings cutting loose to the Atlanta rap group's "Knuck If You Buck" at clubs and parties in 2004. It's the same energy. Video of Lil Nas X surprising a roomful of elementary-school students with a performance of his hit carries the same pure mania as video of crowds going nuts to Bobby Shmurda's trap anthem "Hot Nigga" or screaming teens of the 1960s losing it over the Beatles. Children have a sharper acuity for pop music than they get credit for; anyone smart enough to stop serving pap and give 'em the good stuff will make a mint. (The Lion King's cast album, as well as Beyoncé's tie-in The Gift, are dominating the Billboard Kid Albums chart this week, while global phenom Peppa Pig — the British children's cartoon star popular enough Stateside to have spawned attractions at theme parks in Texas and Michigan, not to mention countless memes — lingers at No. 25. The show is cute, but without visuals, the music is frankly quite stuffy.)
Now that charts rely on traction from streams, and the single-digit set has smartphone access and apps like TikTok that allow them to react to and participate in popular culture as it happens, a fun viral fad can turn into a spot on the Hot 100, so we're going to see more tween tastes reflected in the charts, in the same way that Disney Channel youth like Miley Cyrus and the Jonas Brothers were as important to the story of music in the aughts as stars pursuing more adult themes in the same space. Is all-ages pop music back?