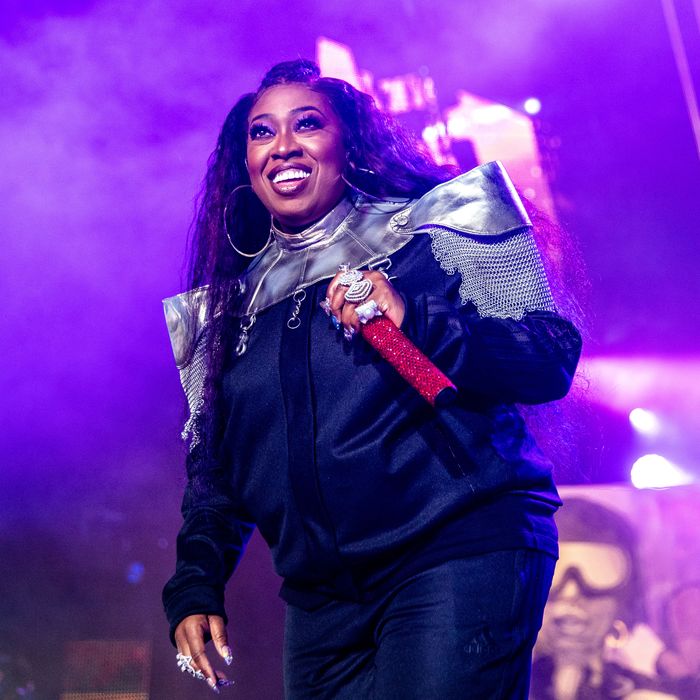 Video Vanguard for 2019, Missy Elliott
Photo: Josh Brasted/FilmMagic
Meat dresses! Snakes! Baby bumps! Smooching! The MTV Video Music Awards is the Garden of Earthly Delights of awards shows, a bacchanalian smorgasbord of scandalous twerking and celeb-feud origin stories. In 2019, the VMAs in all of their excessive glory cannot be contained on the mere isle of Manhattan, and the show is migrating for the first time to New Jersey's Prudential Center.
This year's VMAs will include a new Best K-Pop category, as well as a new "Video For Good" category that unfortunately isn't honoring Youtube compilations of Broadway diva duets. (It will instead celebrate social justice-minded videos like Lil Dicky's "Earth" and Taylor Swift's "You Need to Calm Down.") Missy Elliott will receive the Michael Jackson (hmmmmm) Video Vanguard Award, and will perform alongside other acts like Normani, Shawn Mendes, and Camila Cabelo ("couple" name Camila Mendes). Another exciting category is Best New Artist (presented by Taco Bell, because the VMAs are nothing if not classy), which will see the likes of Lil Nas X, ROSALIA and Billie Eilish facing off against Lizzo, because apparently we live in an alternate timeline where "Good as Hell" didn't take the world by storm in 2016. Oh, and how do you do, fellow kids! The whole thing will be hosted by Sebastian Maniscalco.
For those of us not fortunate enough to have a seat saved next to Bebe Rexha, there are still plenty of ways to watch the proceedings, which air August 26 at 8 p.m. MTV Live will begin streaming its VMA Red Carpet Preshow at 7 p.m., featuring performances by Megan Thee Stallion, Ava Max, and Latin American boy band CNCO. The preshow will also have hosts like "special correspondent Zara Larsson" giving out the first awards of the night, so it's probably worth a stream. You can sign into MTV Live with your cable provider, and if you're cord-free you can sign up for a one-time 24-hour viewing pass here.
As for the show at 8 p.m., you can keep streaming on MTV Live. If you do have cable, Viacom will be broadcasting the VMAs across a wide range of its networks: MTV, MTV2, VH1, BET, CMT, Logo … even TV Land and Comedy Central, because sure why not!
One more option: Pluto TV, the free streaming service owned by Viacom, will stream the awards live across a number of its Viacom channels. They've even set up an MTV VMA channel (935) that will be airing a full slate of VMA-related content all day leading up to the ceremony, including performer spotlights on acts like the Jonas Brothers. Pluto TV doesn't even require a log in, let alone a subscription, so if you're particularly password-adverse or commitment-phobic, this might be the way to go. Happy streaming!