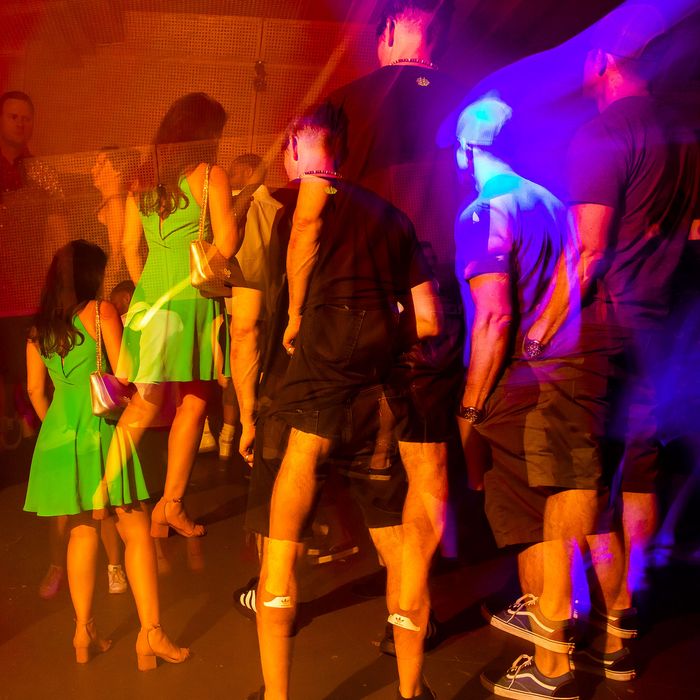 Public Records.
Photo: David Williams
Today, from early morning until late at night, it's full of Brooklyn vegans in bucket hats and wire-rimmed glasses sporting microbangs — people with a stated preference for vinyl, oat milk, and natural wine. The 6,000-square-foot music venue and hangout spot Public Records, at 233 Butler Street in Gowanus, was once full of stray cats. For decades, it was home to the ASPCA, but, after a few intervening tenants, it has been transformed into a sort of postindustrial student union for postcollegiate human strays looking for a way to spend their days. It opens with coffee and Wi-Fi at 9 a.m. for impromptu co-working, and on the weekends, it keeps going till four in the morning with avant-garde music and $15 signature cocktails (Mezcal Melon, made with watermelon, Aperol, and Thai basil, is a house favorite). You can buy records and exotic print magazines there and see the people you'd normally find on your location-specific dating app in real life.
Founded by Francis Harris, Erik VanderWal, and Shane Davis, Public Records opened in April. "I was in the midwestern hardcore scene, and we would hang out in these spaces where it would be like a soup-kitchen bookstore during the day, and then a bunch of hardcore bands would play at night. It felt kind of like an all-day, all-night space," says Harris, who oversees the music (VanderWal is in charge of the food and drink, and Davis the look and branding). "It's one of the big inspirations for Public Records, this idea that you can experience different music in different contexts or at different parts of the day." Zither and autoharp legend Laraaji performed a rare live show in June. Wednesdays are for jazz. Sundays are for reggae. This particular weekend's selections included a Friday night of DJ-ing from New York staples Justin Miller, Jacques Renault, and Nick Mercer. On Saturday afternoon, Harris hosts and performs at the "Ambient Cafe." He's joined by two other live acts, including ambient musician Nadia Khan, who's making her New York debut. For the later Sunday crowd, there is a free show called "Friends With Benefits." It has become a draw for shift-working folks in the food-service industry.
But most of the people there are just looking for a hangout at any particular hour. Want to bring an easel and your dog and park them outside to paint like it's Montmartre? You can do that at Public Records. Want to sweat your face off dancing to Octo Octa in a hazy, colorfully lit room? You can do that, too.
The best thing the space has going for it is, quite literally, the space. There's an abundance of plants plus a large skylight, which, paired with the 18-foot ceilings, offers brightness throughout the day. The venue strives to be sustainable: Drinks come in glass or stainless-steel vessels, and there's not a plastic straw in sight. (The plan was to be 100 percent plastic free; the owners say they quickly learned that dream wasn't going to be feasible.) The backs of the bathroom doors — which are gender neutral, as several signs declare, despite the fact that each is a single stall — are lightly scrawled with neon-colored graffiti. Given the hypercurated nature of the rest of the place, it's hard not to wonder if the founders planned this, too.
On the Friday night I spend hanging out at the bar, one woman tells me, "If I walked into somebody's apartment and it looked like this, I'd be scared. It's cool here, though." I watch the man next to me scroll through Instagram and pause to read a post from New York Magazine's account "Should I Just Give Up on Saving Money?" "Orange wine isn't actually made from oranges," a man explains to a woman standing behind me at the bar. He's not totally sure how it's made, but he's certain it's from grapes. (It is.) Over the speakers, a remixed "Ave Maria" lilts.
Café hours run till the bar opens in the evening or into the early afternoon on weekends. If you don't come armed with a computer or book, you can buy a niche magazine there, like Victory Journal or LSTW (a sports-culture magazine and a Canadian lesbian publication, respectively). The sound room, which hosts ticketed live performances, opens at ten.
And in a city where we sometimes feel connected only through our screens, Public Records has become a place for regulars. "There's a professor of poetry who's literally there six days a week," says Harris. Another, whose nickname is Disco Diana and who sports a nameplate necklace to let you know, tells me, "A lotta love went into this place."
*This article appears in the August 19, 2019, issue of New York Magazine. Subscribe Now!