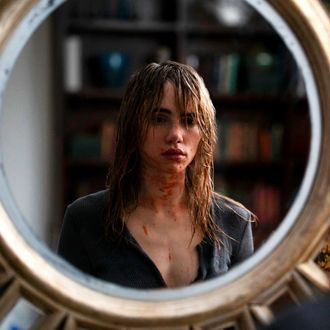 Photo: Richard Foreman, Jr. SMPSP/Hulu
Hulu and Blumhouse are headed back Into the Dark: The Disney-run streaming service has ordered a second season of the Blumhouse TV–produced horror anthology, Vulture has learned. Launched last October, the franchise's monthly feature-length installments each offer a twisted take on an American holiday or tradition. Hulu has ordered nine more episodes of Into the Dark, on top of the 15 episodes it previously greenlit, ensuring the series will remain in production through September 2020.
According to Blumhouse TV co-presidents Marci Wiseman and Jeremy Gold, the first batch of Into the Dark episodes were successful enough that the studio plans to stay the course for round two. "What we want to replicate is the kind of the filmmaker-driven vision for the films," Wiseman told Vulture. "We've brought Hulu filmmakers who are vision first, script later, and they have been unbelievable partners in letting us build this collection."
Jordan Helman, Hulu's vice-president of content development, said Blumhouse's "deep roots in the horror genre and their commitment to showcasing up-and-coming artists" has translated into a devoted audience for the monthly franchise. While Hulu (like all streamers) doesn't release specific viewing data for its shows, "Into the Dark allows us to super-serve one of our most engaged and passionate audiences," he said.
While installments of Into the Dark feel like feature films (or well-done TV movies), each one is shot in about three weeks and is made with a "television infrastructure," according to Gold and Wiseman. That means they're produced more like TV episodes, and Gold says that strategy will continue with season two: The next slate will similarly stagger topical stories with installments that are just plain old horror madness. "The idea is diversity of entertainment within the collection rather than sameness," Wiseman said. "We lean into the fact that it's a fun experience to come every month and you don't quite know what's coming, rather than seeing something expected."
The best episodes of Into the Dark so far have been rooted in allegory, with the self-care culture satire New Year, New You and the immigration horror story Culture Shock setting creative high bars. A strength of the franchise has also been its blend of new and experienced filmmakers. Last year's Christmas episode, Pooka, came from director Nacho Vigalondo, who already had a handful of features under his belt like Timecrimes and Colossal. Culture Shock, meanwhile, was the first full-length film helmed by the actress, writer, and prolific short film director Gigi Saul Guerrero. Blumhouse TV operations are separate from the company's features division, but the "relationship sharing" across departments aims to integrate filmmakers into the greater Blumhouse network.
That's already happened a couple of times with Into the Dark. New Year, New You's Sophia Takal co-wrote and is directing this December's reboot of Black Christmas, while Guerrero will direct an episode of USA Network's Purge TV show next season, in addition to developing another project for the studio that Wiseman says "could go in a bunch of different directions." Adds Gold, "We all spend a lot of time talking about where we can double down on artists together. It's actually a goal and a focus, not just a happenstance thing."
As for what's coming up in the near-term for Into the Dark, Wiseman said the final installment of the first batch will "explore some more kind of social issues." She added that International Daughter's Day has been considered as a hook for the September episode, though they're not going to spoil the surprise. In regards to franchises within the franchise, Wiseman tells Vulture that the Blumhouse TV team is looking into "quasi-sequels" for fan favorite characters as well. "This is really an opportunity to have people who are iconoclasts or people who don't work within the system traditionally come and work with us in a very regimented system with all this infrastructure," says Wiseman, "They get to really to play within that system to see their kind of creative vision."
Episodic anthologies have become increasingly popular in the streaming era, from Netflix's Black Mirror to the recent CBS All Access reboot of The Twilight Zone. More are in the works, including Amazon's adaptation of the New York Times' Modern Love column, which is set to debut in October.