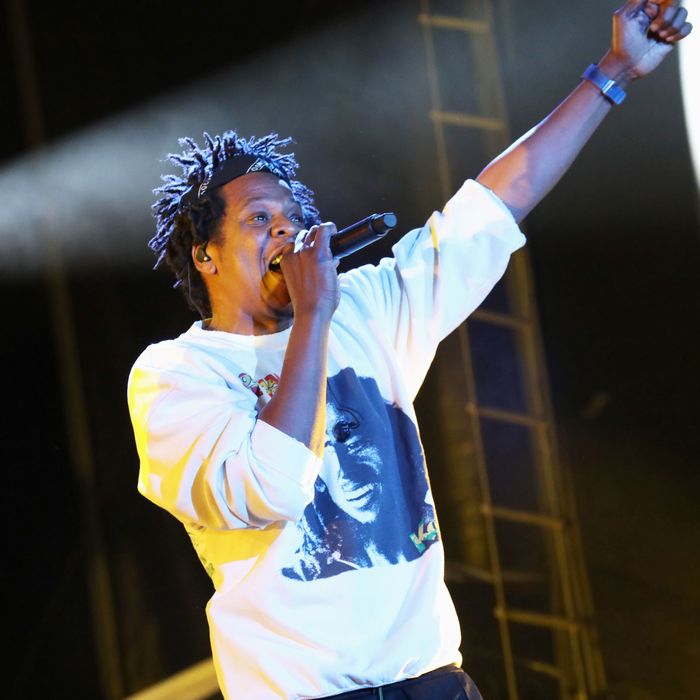 From a PR standpoint, it is difficult to see how the risk-reward calculation makes sense for Jay.
Photo: Brian Ach/Getty Images for Something in the Water
Every week, Vulture runs through the best, most interesting, and sometimes most confusing rap releases and other news. Jay-Z makes the unpopular decision to get in business with the NFL; Nicki Minaj and Joe Budden settle their differences on their radio shows; new music from Young Thug and Quality Control, and more.
Young Thug, So Much Fun
So Much Fun is conspicuously a summer album despite all the raps about murder. Its beats, which are individually expert and furnished by a handful of A-listers and/or longtime collaborators, meld to create a sort of constant, subtropical pulse; the guests are a mixture of the collaborators who coax out of Thug his most exciting material and performers whose presence should goose the streaming numbers (there is some overlap between those groups). The record is, unquestionably, too long and too back-loaded, and Thug is not operating anywhere near his 2013–15 peak, during which he was perhaps the most inventive vocalist and writer in the genre. But the songs here, especially the opener, "Just How It Is," and those bunched together on the B-side are among his strongest commercial releases since the opening run on 2016's Beautiful Thugger Girls.
Quality Control, Control the Streets, Vol. 2
Quality Control Music, the label co-founded by the legendary Atlanta figure Coach K, is likely past the peak of its powers; the point, in the middle of the decade, when the Migos were one of the biggest commercial acts in rap, and anyone who grew from their ribs might be a bankable star, was its apex, a time when its roster reflected the precise Zeitgeist of mainstream rap. Their first compilation album was released at the tail end of this run, in December 2017, and reached No. 5 on "The Billboard 200" despite lacking an obvious hit. The second volume is monstrously long — it is in no meaningful sense an album, rather a hard-drive dump of songs that work simultaneously to flex the label's Rolodex and to vie for more radio rotation. The list of names involved is just as endless (Gucci Mane, Lil Yachty, Migos, Young Thug, City Girls, PnB Rock, Gunna, Da Baby, Lil Baby, Tee Grizzly, and on and on and on). It is bludgeoning. There are fragments that might be worth wading through the filler: Meek Mill's turn on his Quavo duet, the solo Lil Baby song "Back On," Playboi Carti's vocals on "100 Racks." But, by and large, this is an atomic Hail Mary not worth extended attention.
Snoop Dogg, I Wanna Thank Me
In a decade that has seen Snoop Doog go down three album-length forays into other musical traditions (that would be reggae, funk, and gospel), his 17th album is a series of exercises in rap subgenres. I Wanna Thank Me makes expert use of foundational legends like Slick Rick and newcomers like the Inglewood firebrand Rucci; it taps Rick Rock and Battlecat but also Jazze Pha for production; it has a warm, sentimental duet with the late Nate Dogg but also a song with Rae Sremmurd designed for debaucherous pool parties. The thread that ties these seemingly disparate fragments together is Snoop assuming the mantle as L.A. County's rap elder. He spends time urging for peace between different Blood and Crip sets, and paying tribute to the departed Nipsey Hussle. Thank Me also confirms what has been true for the whole latter half of Snoop's career: He's quietly grown into one of the most consist legacy acts that hip-hop has ever seen.
Jay-Z Partners With the NFL, Faces Backlash
Last week, the NFL announced a partnership with Jay-Z and Roc Nation that will see the rapper and his full-service entertainment company "advise on selecting artists for major NFL performances like the Super Bowl," per the league. Additionally, both sides say, Jay and Roc Nation will play a role in the league's new "Inspire Change" initiative, which was born from negotiations between the league and players who had protested police violence during the national anthem over the past several seasons. (Inspire Change commits NFL funds to a number of initiatives, including community organizations like Big Brothers and Big Sisters, educational programs, and various opaque policy/community-relation plans.)
The alliance has since irked observers in music as well as sports. It represents a curious about-face for Jay, who has criticized the NFL on record and who discouraged Travis Scott from performing at the Super Bowl in Atlanta earlier this year. (Last week, Jay said he gave the advice because he didn't want to see Scott be "second fiddle" to Maroon 5, the halftime show's headliner.) Jay also admitted that he had not spoken to Colin Kaepernick — the blackballed former quarterback of the San Francisco 49ers, whose police-brutality protests during pregame national-anthem ceremonies sparked the current friction between players and owners and who earlier this year accepted a settlement in his collusion lawsuit — before accepting the NFL's offer. Kaepernick has since criticized Jay both for the partnership writ large and for comments the rapper made during the press conference announcing it, which Kaepernick felt were dismissive of his protests and their efficacy. And on the music front: Over the weekend, the Grammy-winning songwriter Bryan-Michael Cox said that last year, Jay called Jermaine Dupri and urged him to turn down a similar deal with the NFL.
Compounding all of this is the fact that the Inspire Change program has been a point of contention among activist NFL players. Some of the most visible protesters, including defensive backs Eric Reid and Michael Thomas, withdrew from the "Players Coalition," a group formed to negotiate with the league on social-justice matters, shortly after Inspire Change was formed, noting that they were not consulted.
From a public-relations standpoint, it is difficult to see how the risk-reward calculation makes sense for Jay. He and Roc Nation provide the NFL a certain amount of political cover; as has been pointed out by activists and observers, there is little or no social-justice work that Jay would be able to do only with the NFL's assistance. It has left many questioning why a fabulously wealthy person, who has spent the past several years thinking, speaking, and acting progressively in social-justice spheres and who has criticized the league on numerous occasions, would consider the arrangement at all.
Perhaps the answer lies in the TMZ report that Jay is set to acquire a "significant ownership interest" in an NFL team soon. No team was named. (The move would complicate Roc Nation's sports-management business; Jay was forced to sell his minority stake in the Brooklyn Nets when the firm began representing NBA players.) It would make him the first black owner in league history.
Nicki Minaj and Joe Budden's Podcast Beef
In the last decade, battle rap has moved slightly away from tightly timed rounds of disses delivered over a beat to long, sprawling a cappella sessions. It stands to reason that the next evolution in rap beef would be to drop the pretense of rapping all together. In the span of three days, Nicki Minaj and Joe Budden had a pair of intense conversations — on Minaj's Queen Radio show, a program exclusive to Apple Music, and on Budden's popular, self-titled podcast, for which the rapper recently signed a lucrative deal with Spotify. In the former conversation, Minaj criticized Budden for implying on his show that she has a drug problem, for talking about behind-the-scenes particulars of her music career, and for what she suggested was a bias against women in rap music. In the last, Budden drew attention to how beneficial the arguments were for the ratings of each show. Whether it was staged is beside the point — the move from diss songs to long-form, impossible-to-follow conversational drama is innovation enough.