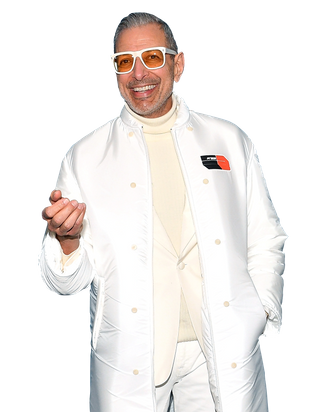 Photo: Dia Dipasupil/Getty Images
"I'm like a hummingbird," says Jeff Goldblum at the start of our interview about his latest film, The Mountain. He means it as an explanation for why he will be conducting this Q&A while eating lunch (his high metabolism means he needs constant fuel), but it also fits as a metaphor for his schedule at the moment. Besides his obvious onscreen talents, one of the advantages of casting Goldblum in your indie movie is the wealth of promotional opportunities he brings with him, and the actor's in the middle of a round-the-clock press tour that also includes stops at BuzzFeed and Late Show with Stephen Colbert. "It's demanding, but I like it," he says. "I don't want to disappoint myself or anybody else. People are counting on me, and with a movie like this, I need to make every use of every opportunity."
In the case of The Mountain, "a movie like this" means a chilly 1950s period piece about lobotomies, directed with an uncanny air of detachment by filmmaker Rick Alverson (The Comedy). Goldblum plays a doctor based on Walter Freeman, the controversial surgeon whose quick and easy "transorbital lobotomies" left thousands of patients, including Rosemary Kennedy, mentally incapacitated. With Tye Sheridan as his stone-faced protégé, Golblum's Dr. Feinnes travels the nation looking for brain lobes to tap and women to seduce. It's a rare opportunity for Goldblum to display the dark side of his legendary charisma, as well as a chance to batten down and do something a little more serious. "I like nutritious cinema," he says. "I like to have fun as much as the next guy, but I really do like to nourish myself." The Mountain's spartan tone makes something of an odd contrast to Goldblum's gonzo energy, but on the plus side, its press tour means he gets to spend even more time asking his director questions about the movie. "I'm still trying to excavate from him what the heck it's about," he says.
What, to you, is this movie about?
It felt like an X-ray of the American landscape. It's a bare and ugly, cheap, faded affair, whistling in the middle of the cosmos. Anyway, I liked it. I wanted to be part of this thing, even if I never figured out what it meant. And if people get it — which we're not trying to have them not get — if they get all of this oblique, obtuse, abstract imagery, maybe the audience, having been disturbed, disrupted, and otherwise engaged, maybe they'll involve themselves in things that, like Noam Chomsky might say, keep them an active and a dangerous participant in the political process — go out and vote, learn about the issues, wake up to things, and get a little healthy disenchantment with these stories of mountains and nations and gods, et cetera.
I got this book, Fantasy Land, by Kurt Andersen, which chronicles in a very articulate way — just like in The Ballad of Buster Scruggs, There Will Be Blood, The Master, Death of a Salesman — how America, even in its seedling stage, the people who came and planted their flag, were not, as in the story, people seeking religious freedom. They were people who could get talked into coming over here, who wanted to get rich quick, who were fanatical religious goofballs. And sure enough, over the last four centuries, America has given rise to the most amazing collection of religious ideas and movements: people who wanted to make something of themselves in some way, snake-oil salespeople, and mythmakers in show business. That's what the book said, and I thought, Hey, this is our story.
It's interesting that so much of that clean, spare '50s aesthetic reads to us today as unsettling, even creepy. As a kid growing up in the '50s, was that your sense at the time?
Well, not all movies are like this movie, where you really put you in a kind of a wax museum, in a strange and awful way. But the seeds of my ebullience and joyfulness — which I am not putting on, I can't seem to repress it — were there from the start. So I was unflappable in some ways. Although when I looked back on it, there were elements of darkness and subterranean challenge. I went to a suburban school outside Pittsburgh, it was not an entirely rosy kind of thing. It was a funny kind of place. My school was a kind of drab place: conventional, "shut up and sit down."
Just by the nature of the fact that they're playing people who have gotten or are about to be lobotomized, a lot of your scene partners in this movie don't give you a whole lot back.
Hannah Gross, I find her a wonderful actor. She's haunted and haunting, very powerful and frank. That's not nothing. She's giving me plenty. Tye Sheridan … yeah. [Grimaces and glowers the way Sheridan does in the film.] That's not nothing either. He's a very rich, full actor. Even though there may not be much talking, he's very giving and full of provocation and interest and fascination.
Earlier you compared yourself to a hummingbird. How does a hummingbird work on a movie this still?
Well, sometimes it just comes out, and Rick goes, "There it's okay." But sometimes Rick would go, "Mm, mm, mm-mm-mm, mmmmmmmmmmmm, I don't think we need that." But I enjoyed working with him. He left it a little organically undone. He's not a Hitchcock or a Wes Anderson — I love Wes Anderson — he's more, "Let's find it." He had to find his way. I'd say, "Do you want to hear this and this?" And he'd say, "Yeah, maybe." I'd say, "What if I did this, this, and this." He'd go, "Uh-huh, oh, ooh, not that, but that, what you just said …" We'd all just tweak it a little bit like that.
I want to talk to you about the dance that you do in this movie. 
Another scene of me getting drunk and picking up a girl. I'm trying to seduce, in my own unconventional way, this lady, and let off some steam. I've got many hidden aspects of traditional masculine roles that have burdened me that I need to unburden. So, there's much drinking, some dancing, et cetera.
Did you choreograph it yourself?
I did that little thing, I came up with that.
They were good steps.
You liked it? Are you a dancer? You're a bit of a Tommy Tune, I can see that. If we do another movie, you can play a young me. You're my grandson!
Your character in this movie also spends a lot of time complimenting people on the film stars they resemble. What would he say if he was trying to pick up Jeff Goldblum?
Young Jeff Goldblum? He'd tell him, "Does anybody ever tell you if you were an actor, you'd be a young, handsome Victor Mature? Do you know who that is?" And I'd say, "Yes, as a matter of fact I do. Wasn't he in After the Fox?"