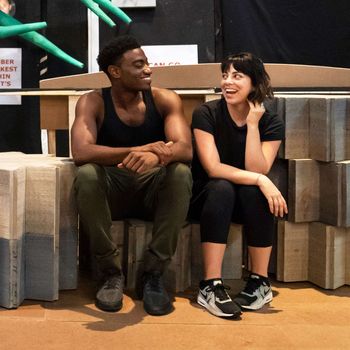 Jelani Alladin in rehearsal with Krysta Rodriguez as Meg.
Photo: Joan Marcus
When Jelani Alladin calls for a phone interview, he's just getting out of the gym, which feels appropriate for an actor who's preparing to play Hercules. There's "all these lines in the text about his body," Alladin says, and "I can't make them look like fools saying that!" For just one week starting Labor Day weekend, Alladin is starring in a stage adaptation of the Disney animated movie Hercules in Central Park, which has quickly become the hottest ticket in town, even if you can pretty much only get a ticket through a lottery, and it's only running from August 31 to September 8.
While the musical's cast stars a group of professional actors as the leads — like Alladin, as well as Krysta Rodriguez as Meg and Roger Bart as Hades — it also features amateur actors from community groups across the city, as it's part of The Public Theater's Public Works program. As Alladin explains, that made things on Hercules a little different from your typical Disney stage musical, something he's also familiar with, considering that he played Kristoff in the stage adaptation of Frozen. As he recovered from his latest workout, Alladin talked to Vulture about the show's development, the new music featured in the score, and director Lear DeBessonet's vision for a Hercules directly about black masculinity.
Hi, how's it going?
I'm actually at the gym right now. That has been my home away from home.
Well, that feels like a crucial part of playing Hercules.
There's all these lines in the text about his body! I'm like, I've got to justify this! I can't make them look like fools saying that. I've put on about seven pounds since I left Frozen, which is not a lot but it makes a difference in terms of the look.
Let's start at the beginning with Hercules. What's your relationship to the original film?
I guess I didn't really grow up watching the film. The version of Hercules by Goodtimes Entertainment, that's the VHS we had at my house. But it wasn't until McDonald's came out with the Hercules Disney toys that I was like "Oh, what is this version of Hercules?" And that is when I think I decided to go see the movie. I actually appreciate the movie more as an adult than I did as a kid. When I first heard that we were doing this about this time last year in our first workshop, I went back and watched the movie and it's actually a beautiful animated film in terms of the colors and the action, and the comedy is all so sharp. In no way shape or form can you ever copy what is in the film, because literally our human bodies can't do what animation is able to do, but it's been a fun journey trying to explore as much as we can.
People from the community are joining you onstage since this is part of a Public Works project, and that's different, I imagine, from rehearsing a Broadway show like Frozen. What has that been like?
The two processes are extremely different but also extremely the same, in a weird way. Its like, sure, the goal of this right now is not for a big budget multimillion-dollar project. But at the same time we still want to bring as much life and depth to the story as you would any Broadway production or any show that you have to do anywhere. Working with the community offers a kind of hidden jewel. There aren't chorus boys and chorus girls dressed up like townspeople or pretending to be shopkeepers. They are actual genuine New Yorkers who are hustling in their day-to-day life who come here to do the show. They are bringing a kind of authenticity to the piece in that way, in that it actually does feel more like a town. Having 120 people to play off of gives it much more energy, much more life.
That's a lot of people to get on the same page, too.
Every time we do dramaturgy, we always include the community that we are working with in the scene or number, to cultivate a language, a shared language of how we understand the play. I remember standing in the circle that first day and being like Wow, look at this circle. Alan Menken is the minority in this circle, too. He's the only white Jewish man in this circle and then he has these beautiful people of all walks of life telling this story of Hercules. Who would have imagined?
I heard that director Lear DeBessonet wants to explore different ideas about what heroism means in this show. Is that something you talked about in rehearsal?
It's something we talk about every day. The beautiful contradiction of this piece is that the title is Hercules, but the story is not at all about Hercules saving the day. It's actually about the people coming together because of the efforts of Hercules to save the day. So the show is really about the community. It's about a sort of strength in the unity, strength in love and compassion and empathy. It just so happens that Hercules innately has that within him and he begins to share it with other people and it catches like wildfire.
Being a black actor, and having played Kristoff in Frozen, what is it like to go into these roles originated with white actors? What does that mean to you?
I personally feel like I'm incredibly honored that I have one chance to do it and now I have a second chance to do it, and I hope that I have many more in my career. I think it really comes down to the vision of the director. Michael Grandage [who directed Frozen] had a vision of saying this role can be open to whomever. Lear had a vision that she really wanted an African-American male to be Hercules because she believed that that was the truest essence of what we needed to see in art today. We need to see a person of color standing in the shoes of what it means to be a hero. For me, stepping into this role, I have to bring my culture, my background, my upbringing in Brownsville, Brooklyn — all of that — to this piece in order for it to be authentic to me. Otherwise, I don't know what story I'm telling.
So, as I'm exploring songs like "Go the Distance," for example, I'm looking at it as not just about going out there to become a hero. Hercules has been in this place where he is different than everyone else, and he finds an answer through the gods and he goes and he runs away from the community, he runs away to find his freedom. Every time I sing that lyric, I think of all the black men throughout history that have been enslaved, incarcerated. The song is for them. It's about all of us finally, finally finding that answer, finally going after the thing that will make us beautiful. Then, the question part of it is that Hercules thinks he gets it and he doesn't get it at all. He's actually missed the mark 100 percent. I think what's beautiful about this piece is that it's also showing how heartbreaking and how actually soul-crushing a hero's journey can be, because that's real life.
Alan Menken and lyricist David Zippel are writing new music for this show. What are those songs like?
Alan has written new songs that further deepen each character's intentions. Hades has a new song. Hercules and Meg have a new song. Hercules has a new song. The Muses have more to sing as well. You have this epic battle to save the world, why not make that a huge musical number? And they are all in the same vein of what the music in the movie was. There's a lot of up-tempo songs in this show, and it's really fun.
You only have a short run. It's basically only a week. I know just from Twitter the number of people who have entered into the lottery is very, very large. Have you talked about any chance of bringing it somewhere else?
No, we have not talked about that. But if there was another life of this piece, I would love to still be involved with it. It latched onto my heart, this role. I've never in a million years thought that my career would include one Disney musical, let alone two, let alone a title character. I was going to quit musical theater and it somehow came back and found me. I am honored to just be here, to stand here, to represent so many people who feel for so long that they couldn't see themselves existing in a play like this.
Do you have any consolation to offer to the people who may not be able to get a chance to see it?
There's no way that everyone is going to get to see the show, that's just unfortunate. But why don't people start a Twitter campaign to get it to go to Broadway? You know what I mean? That seems to be working these days for a lot of shows.