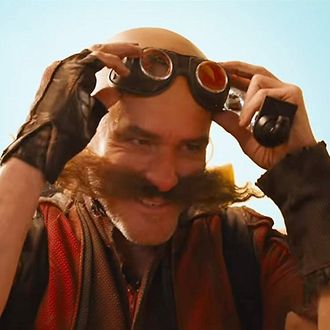 Photo: Paramount Pictures
It's well known that Jim Carrey isn't afraid to get political, so it comes as no surprise that the actor bravely weighed in on one of the most divisive issues facing the nation: the Sonic the Hedgehog redesign. The movie's first trailer presented viewers with an unholy abuse of Digital Fur Technology, a man-toothed sin of a creature that sparked fear and revulsion in audiences. When fans were disappointed in the design, director Jeff Fowler responded that the animation team had gotta go fast when redesigning the cursed rodent for a Valentine's Day 2020 release date.
On Friday at the Television Critics Association presentation for his Showtime series Kidding, Jim Carrey, who will play Sonic's nemesis Dr. Robotnik, voiced his ambivalence about the fandom's input. Here's how Carrey addressed the issue, according to EW:
"I don't know quite how I feel about the audience being in on the creation of it, while it's happening. So we'll have to see what that entails, because sometimes you find that the collective consciousness decides it wants something, and then when it gets it, it goes, 'Okay. I just wanted it. I didn't care about it. I just jumped on the bandwagon,' or whatever."
Carrey's framing of the "collective consciousness" as an insidious affront to Fowler's autership reeks of Robotnik, whose whole deal is turning people into robots and establishing an "Eggman Empire" for total world domination. Carrey went on to say: "We do what we can do, and then technology is going to have its way," which sounds like it could be a direct quote from the movie, from when he unleashes a robot army, or something.