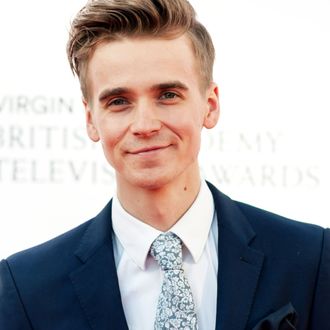 YouTuber Joe Sugg will play Ogie in "Waitress" in London.
Photo: Wiktor Szymanowicz/Barcroft Media via Getty Images
In its umpteenth stunt casting move to date, the musical Waitress will welcome YouTuber Joe Sugg into its London cast on September 9 as Ogie, a dorky Revolutionary War reenactor in search of love. Sugg, who boasts 8 million YouTube subscribers, is perhaps best known for a stint on the BBC's Strictly Come Dancing, which is basically Dancing With the Stars except the stars are British. The news of his casting has prompted certain folks on Theater Twitter to crawl out of the woodwork to etiquette-splain to Sugg's fans. (People are also salty over Sugg's lack of formal theater training.) With no indication that Sugg's fans will behave badly, seasoned theater attendees have deputized themselves to police their behavior in advance. The drama! The niche, niche drama!
I mean … I guess it makes sense. Nobody else in the history of attending a professional theater performance has ever behaved poorly. Nobody. Not the person who climbed onstage before Hand to God to plug his phone into an outlet on the set. (The outlet was fake.) Not the person who had their phone snatched from their hands by HRH Patti LuPone while her majesty was mid-performance. Not that time Ricky Martin was in Evita and a noticeable number of women seated around me wolf whistled when he made his entrance as Che. Not that time a woman filmed Hamilton on her iPAD (!!!) and Lin-Manuel Miranda called her out on Twitter. Not the man who sat next to me during Tootsie previews and read from his phone the entire time. (Sir, I know the show was awful, but I have a feeling your distaste had little to do with the problematic, transphobic plot. At any rate, that was still rude! Tweet your feelings after the show like the rest of us.)
YouTube stans are definitely the problem here.