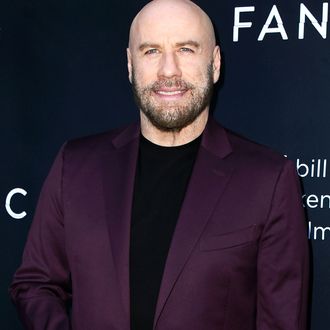 Photo: Jon Kopaloff/FilmMagic
The 2019 MTV Video Music Awards was confusing for many reasons. For one, the presence of John Travolta. What was HE doing there? But it seems that he was also confused.
Travolta was on hand to present the award for Video of the Year, alongside his Hairspray co-star, Queen Latifah. After Latifah announced that Taylor Swift had won for her song, "You Need to Calm Down," many of the stars who appeared in its music video joined her to accept the award. But when Swift's pals, which included Hannah Hart, Todrick Hall, Dexter Mayfield, and Riley Knoxx, made their way onstage, Travolta seemed to hand the award over to drag queen Jade Jolie, confusing the RuPaul's Drag RaceSeason 5 star for Swift. A case of mistaken identity!
I like how this tweet refers to Travolta as "the presenter."
Ironically, Travolta was trying to avoid making a flub onstage. He asked Latifah to announce the winner because he didn't want to "fuck it up," most likely referencing the 2014 Oscars when he called Idina Menzel "Adele Dazeem."