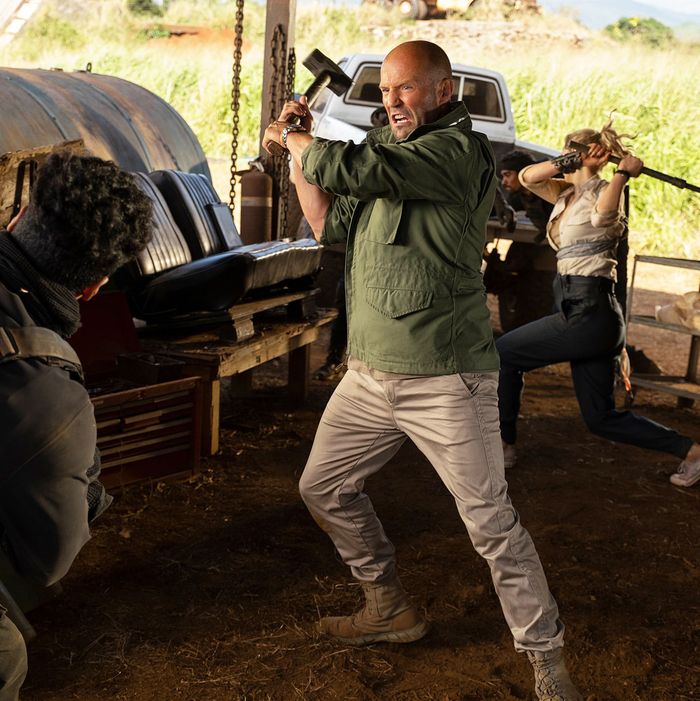 From day one,
Fast & Furious
filmmakers told Jason Statham his character wasn't a villain. So what does that mean for Han?
Photo: Universal Pictures
In Fast & Furious Presents: Hobbs & Shaw, Jason Statham is the titular Deckard Shaw — a glowering, zero-fucks-given former black-ops assassin who reluctantly teams up with Dwayne Johnson's Luke Hobbs to prevent a bio-genetically enhanced bad guy (Idris Elba) from obtaining a super toxin capable of global genocide. In a plot as bloated as the franchise to which it belongs, Shaw is one half of the film's heroic duo, despite the fact that he's spent most of his time in the multi-billion-dollar grossing series up until this point playing a heel. (Spoilers ahead!)
It's easy to forget Statham's grand entrance to the F&F universe in an uncredited post-credits sequence on 2013's Furious 6, when he commits vehicular manslaughter and offs one of the Fast family's ride-or-die stalwarts Han Seoul-Oh (Sung Kang). "Dominic Toretto. You don't know me," Shaw says into a cell phone from the scene of the crash. "You're about to." Deckard's evolution  — from an antagonist hellbent on exacting a pound of flesh in the name of his comatose brother to what Hobbs & Shaw director David Leitch refers to as a "white hat" — is a testament to how conventional movie physics don't apply to the increasingly bonkers Fast franchise, where cars crash in and out of skyscrapers and men knock drones out of the sky with ambulances. Without question, a Corona-chugging outlaw can come to function as an elite government operative on the side of the angels.
To hear it from screenwriter-producer Chris Morgan, who has written all the Fast films since 2006's The Fast and the Furious: Tokyo Drift, the seeds of Shaw's heroism have existed from the very beginning. "When we pitched Jason on coming in at the end of Fast 6, he was concerned about playing a bad guy. 'I don't know if I want to be the villain' or whatever," Morgan recalls. "I remember telling him from day one, 'You're not a villain. In your own code, you are doing something for your family to protect them.' So even though he's opposed to our team and he does this terrible thing and he is set against them, the slow change for him was being able to reveal that code."
The reverse heel turn begins in Fate of the Furious, the franchise's eighth installment, when Shaw's mom, portrayed by a cockney-accented Helen Mirren, persuades her son to join forces with the good guys (Vin Diesel's Toretto, Johnson's Hobbs, etc.) so that he can rescue his brother from a shared enemy, Charlize Theron's Cipher. (This is the same brother Shaw vowed to avenge at the end of Furious 6. And yes, he spends the majority of Furious 7 doing just that, before he's arrested and locked in high-security prison by DSS agent Hobbs.) In Fate, a newly freed Shaw not only saves his brother, he ends up saving the infant son of F&F franchise deity Toretto, too.
But the climactic moment of reveal Morgan speaks of arrives after the conclusion of Fate, about halfway through Hobbs & Shaw. During a dramatic confrontation between Shaw and Elba's Brixton, a self-described "black Superman" and the foremost functionary of an evil organization called Etheon, the audience discovers that Statham's character has been accepting responsibility for crimes he didn't commit. "They both worked for this section of MI6 and Brixton was recruited by Etheon, this powerful tech cult that has the ability to frame people for stuff they didn't do," explains Leitch, the stunt coordinator-turned-director behind Deadpool 2 and John Wick. "And the idea is, they framed Shaw for the murder of his whole team. And he knows that they're threatening his family. So he's not been able to tell the truth about what's been happening. Because this tech cult can go after his family members."
The sequence compels Shaw's formerly estranged sister and rogue MI6 agent Hattie (Vanessa Kirby) — who, incidentally, has injected herself with the super toxin to keep it out of Brixton's and Etheon's hands — to realize she's had big bro pegged all wrong. Of course as any F&F completist can tell you, the franchise is littered with paeans to the importance of familial bonds, with lines like "You don't turn your back on family even when they do" and "What's real is family. Your family. Hold on to that" reliably cropping up in the movies since Fast Five.
Still, as I point out to Morgan, even as Shaw's nobler impulses come to the fore, it's impossible to overlook the blood on his hands — namely, Han's.
"A couple of things I'll say about that. One, Han is one of my very favorite characters in the Fast world, not to mention Sung Kang is a good friend. We love him so much that when he died at the end of Fast 3, we changed the timeline to keep him alive for three more movies," Morgan says. "So there is a great arc that is happening. And that arc is: Deckard Shaw and justice for Han. I love that people are calling for it. And it makes me happy because I feel it as well. It's something that we want to give its due. It's something that we've been building towards. There's a touch to it in this movie, a line where Deckard says right before the battle in Samoa, 'There's things that I have to make amends for.' That was specifically written because he is thinking of Han."
The writer wouldn't divulge which franchise installment will showcase the resolution of that narrative arc, but he pledges that it is imminent. "We are getting to it," he says. "We want to make sure we give it enough space because it's a big, super arc, a giant story for us that I think the audience will embrace and be happy with. It's important. Justice is coming."