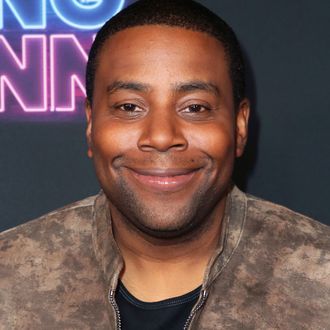 Kenan Thompson.
Photo: David Livingston/Getty Images
Ahead of the season-45 premiere of Saturday Night Live next month, the Washington Post profiled the show's longtime secret weapon, Kenan Thompson. In addition to confirming that he — unlike Leslie Jones — will return to the show next season, Thompson took his love for the show one step further with a declaration of commitment. His quotes should comfort anyone alarmed by the persistent rumors that he might soon depart to focus on his upcoming NBC series:
Thompson, who will start his 17th season on the series in late September, occupies a rarefied place in popular culture. He's the longest-tenured cast member on a famously challenging show to endure, where comedy icons are molded and tend to leave. And although he has several other projects in the works, including a new NBC comedy due in 2020, he has no desire to walk away from SNL.




"That's the forever plan," Thompson says. "To never have to leave that show."
The profile also features insight from Thompson's mother, Ann Thompson, who Kenan can thank for keeping him stay humble and level-headed during and after his Nickelodeon years as a child star. Kenan's mom recalled to the Post how she'd constantly give him reminders to keep things in perspective: "You have to treat everyone with respect because you're not a star all by yourself," she'd tell him, noting that he was famous, but "there are a lot of people that are responsible for you being where you are."
Thompson also opened up a little bit about the lengths he goes to in order to avoid controversies in the press, which backfired when he commented on SNL's lack of black female cast members in 2013 and said that the show "just never find ones that are ready" — a quote he believes was taken out of context at the time. Still, Thompson's comments led to the show holding auditions exclusively for black female performers that same year, which ultimately led to Sasheer Zamata and Leslie Jones joining the cast. "If I have to be the villain for them to hire some women up here," Thompson told the Post, "I will be that."
Former cast member Bill Hader also participated in the profile and offered up all kinds of praise for Thompson, calling him "the performer that I would watch and hope to attain that kind of confidence and ease and fun when he was performing" and "the safety net" of the show. Hader also revealed that Thompson, unlike other SNL cast members, wasn't one to whine and gossip about his coworkers behind the scenes. "That place, it's impossible not to close the door and bitch about people. I never heard Kenan be like that. And if you did say it around Kenan, he'd be like, 'Well, you know, they've got a tough job.'"
Sounds like the kind of cast member who should be on the show forever.