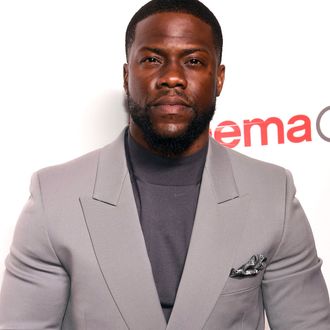 Kevin Hart.
Photo: Chris Pizzello/Invision/AP/Shutterstock
Just when you thought Kevin Hart had way too many projects lined up, he adds another. According to Deadline, the comedian will produce and star in a superhero comedy titled Night Wolf, which was written by Detective Pikachu's Dan Hernandez and Benji Samit. The film is described as a "Meet the Parents–esque encounter," in which Hart's character "meets his future father-in-law for the first time only to discover he is secretly the superhero known as the Night Wolf."
In case you need catching up, Night Wolf joins a ton of previously announced projects from Hart, including starring roles in the Monopoly movie and Scrooged remake, his own Quibi series, and an adaptation of the hit Korean action-comedy Extreme Job. His first stand-up special for Netflix, Irresponsible, premiered on the streaming network earlier this year.