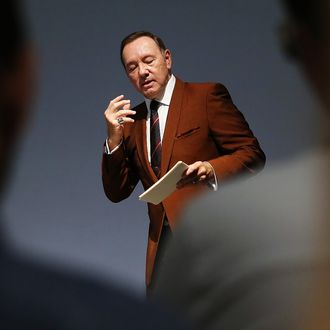 Photo: Ernesto Ruscio/Getty Images
The airline lost your luggage. The bathroom on your bus was out of order. Your taxi broke down. Now that you're finally taking your long-awaited tour of the National Roman Museum's beautiful Palazzo Massimo alle Terme, you say to yourself, "Well, if nothing else, at least Kevin Spacey's not here, trying to sidle back into the limelight." Ah, but you've spoken too soon. According to the Daily Beast, the former House of Cards star appeared next to the Greek sculpture "Boxer at Rest" on Friday and recited an English translation of Gabriele Tinti's poem "The Boxer," which Tinti says he wrote with Spacey in mind.
Perhaps this was Spacey's attempt to spotlight the fact that one of his sexual-assault cases was dropped by Nantucket prosecutors last month, although multiple allegations of sexual assault and harassment remain leveled at the actor. "You have to suck the heart of a hero as long as it beats," Spacey read in part (you can read the poem in English here). "I shook the country, made the arenas vibrate, tore my opponents to shreds. I lit up the darkness, collected insults, compelled applause. Not everyone knew how to do this. None of you." A larger crowd having gathered, Spacey read the entire poem again for a second time.