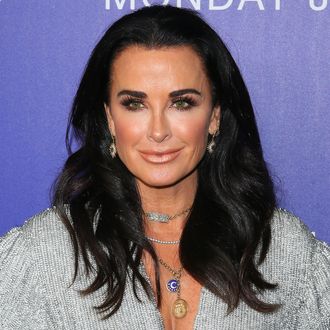 Photo: Jean Baptiste Lacroix/WireImage
Halloween Kills is adding another franchise legacy. After it was announced earlier this week that Anthony Michael Hall would play the role of Tommy Doyle in the sequel, Blumhouse confirmed today that Kyle Richards will reprise her role as Lindsay Wallace. Lindsay and Tommy were the two kids being babysat the night of Michael Myers's 1978 killing spree, and Richards said last year that she was hoping she'd get to come back as the character she played 40 years ago.
She even got in touch with the film team to request a return engagement. "I really wanted to be so badly," Richards told Us Weekly. "And I've never done this in my life. I literally reached out and said, 'Can I be in it in any capacity? I'll be an extra. I'll do anything.' But they didn't think that it was going to fit in with the story or something." Well it sounds like the story, or something, found a home for little Lindsay Wallace after all!
Richards, of course, is the longest tenured member of The Real Housewives of Beverly Hills, which she has been on for nearly a decade. Now that she's been sharpening her knives with Lisa Vanderpump, Richards should be ready to handle the Shape. Halloween Kills comes out on October 16, 2020.