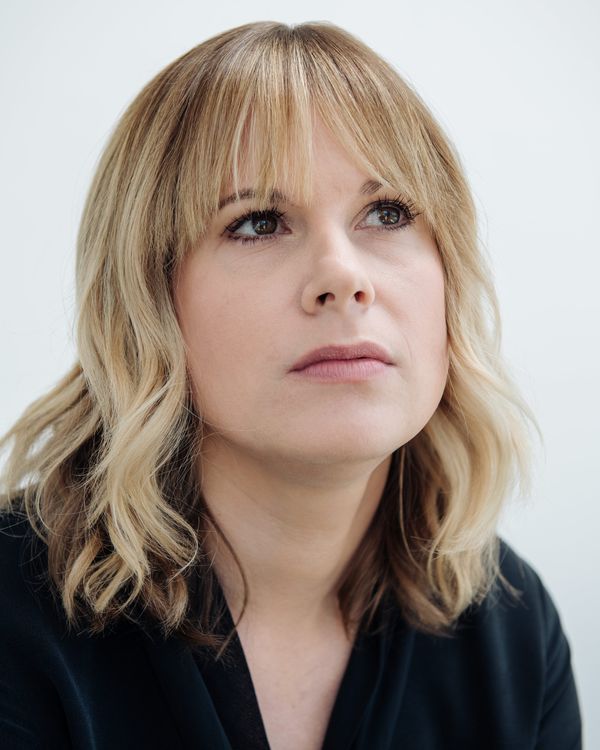 Lara Prescott.
Photo: Trevor Paulhus
You might be forgiven for some skepticism upon hearing that this year's would-be blockbuster was a first novel the author was born to write. But you can't manufacture a birth name for the sake of book PR, and Lara Prescott came by hers honestly: Her parents were obsessed with Doctor Zhivago, Boris Pasternak's 1957 samizdat Soviet novel, which wedded a story of doomed love (between the doctor and Lara Antipova) with a political subplot so subversive no one in Pasternak's homeland was allowed to read it.
The Secrets We Kept is indeed the novel to which Knopf is pinning its hopes in 2019, with a 200,000-copy first printing, but Prescott, a 37-year-old former political consultant, didn't imagine she was writing a book every publisher would want to buy. She just dove into what fascinated her, which turned out to be the stranger-than-fiction story of how the CIA published Doctor Zhivago in the original Russian and smuggled it back into the USSR. Last summer, an international bidding war earned Prescott a reported $2 million in publishing deals — perhaps owing to renewed interest in Russia but really because of her propulsive storytelling and evocative mid-century detail.
Prescott had always wanted to be a writer but assumed it was "something I could never make a living at," she explained to me at a coffee shop not far from her home in East Austin, Texas. With a shoulder-length blonde bob, Jane Birkin bangs, and dangling ceramic earrings, Prescott looked the part of both a Cold War–era aficionado and a bona fide member of the Austin creative class. Born into a family of bookish Russophiles in western Pennsylvania, she hit a major roadblock early in her writing career: "I submitted poetry to Highlights magazine in the third grade — never got published."
After college at American University in D.C., she pursued political work, including gigs with David Axelrod's public-relations firms. She was miserable but did gain something from the job. "Those were the seeds of my interest in propaganda," she said.
Prescott left Washington in 2013, wrote a novel that "ended up in a drawer," and — after two attempts — gained admission to the University of Texas's prestigious Michener Center for Writers. Just before moving to Texas, she got an email that would change everything, from a surprising source of inspiration: an article forwarded by her dad. The Washington Post had run a piece linking to declassified documents about the CIA's Zhivago plot. Prescott dove straight down that rabbit hole.
When she entered Michener in the fall of 2015, she hit the ground running. For her first graduate workshop, she turned in a story told from the first-person-plural perspective of women in the CIA's typing pool. Over the next three years, she fleshed out her narrative under the tutelage of her adviser, Elizabeth McCracken, a novelist similarly adept at character studies and catchy twists.
It might be fashionable for writers of historical fiction to downplay their research, but Prescott openly flaunts its impact, not only on the plot of The Secrets We Kept but also on its structure and voice. When she came upon the autobiography of Olga Ivinskaya, Pasternak's mistress and the inspiration for Lara Antipova, she made Ivinskaya's difficult journey a potent counterpoint to the Washington intrigue, balancing East and West, and spy games with the suffering on the ground.
Further research inspired the love story at the center of Secrets. Prescott had read about the "Lavender Scare," a period in the 1950s when the federal government fired employees who were suspected of being gay — a practice that continued for decades. The author turned it into an affair as clandestine and dangerous as spycraft.
What emerged is a blend of romance and political intrigue that parallels Pasternak's. "I wanted to not only tell the complicated story of Boris and Olga," said Prescott. "I wanted to have a love story similar to Zhivago, a love that could never be." Though Secrets has already been described as a "spy thriller," it evokes Patricia Highsmith's The Price of Salt and Mary McCarthy's The Group more than anything by Ian Fleming. It feels like something that would have been relegated to the "cult" genre or published under a pen name had it been written in the '50s. Instead, it's one of the biggest fiction releases of the year.
The Secrets We Kept is out from Knopf on September 3.
*This article appears in the September 2, 2019, issue of New York Magazine. Subscribe Now!