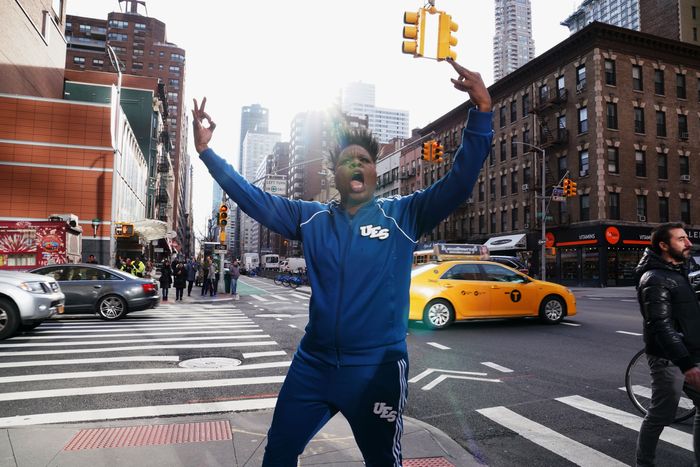 Leslie Jones on
SNL.
Photo: Megan Krause/NBC
More than just a person, Leslie Jones is a presence. Her imposing frame, crackling energy, and expressive features all play a part, but these elements are just the beginning. Against all odds, Jones broke out of the Los Angeles stand-up scene to join the cast of Saturday Night Live at the age of 47. With decades of experience, Jones came in with a skill set that many freshman SNL performers can only dream of; perhaps most important, Jones was a grown woman who knew herself and her voice intimately. From her first appearances on the show, it was clear that if writers wound her up, Jones would dominate the stage until the production crew cut to commercial. Exuberant joy and vengeful rage were her specialties, and while she was brash, candid, and highly physical, she also enjoyed playing the coquette when required. Now that Jones is moving on from SNL to focus on new projects like upcoming films, a Netflix comedy special, and hosting the Supermarket Sweep reboot, let's look at ten of her best moments on the show.
Weekend Update: Slave Draft
Given her hard-earned stand-up chops, it's no wonder Jones found herself at ease delivering earnest editorials during "Weekend Update." She quickly tailored her delivery to fit behind the "Update" desk, talking sex, race, body image, and other subjects that essentially doubled as self-empowerment pep talks. Jones's first "Update" appearance, which is also her most controversial, presented a wildly assured performer who understood her own capabilities. While addressing what she perceived to be a changing standard in black beauty, she brought up her unsettling vision of a "slave draft" she felt she would win, and still managed to seduce the live audience. Certain fan-favorite rants — like Jones excoriating Alabama for its changes in abortion law — highlight Jones's understanding of the format as she leans into the idea of the editorial as something of a stump speech. This one showed that her crackling, ferocious, and sometimes dangerous energy was there from the outset. (The clip isn't available on SNL's YouTube channel, but you can find it if you do a little Googling.)
Love and Leslie
The tiny, the twerpy, the straight-laced, the pale: These were the objects of Jones's affection onstage at 8H. Her flirtations with "Update" co-anchor Colin Jost — which consisted primarily of casual petting and pasty poetry like "You tall glass of almond milk" — came first. Then she found fellow writer-performer Kyle Mooney. As far as mien and general animation went, Mooney was Jones's polar opposite on the SNL cast: He was shy, virginal, awkward, and less than confident. As anyone who has ever watched a romantic comedy will tell you, that's comedy. Though their fictional on-set romance carried on for several seasons, this first edition, in which Jones is just looking for love "like any other girl," has an easy sort of charm to it. Before things got complicated, it was just two misfits from opposite sides of the track, having conversations about sex in front of shocked NBC Pages.
Shanice Goodwin
Maybe its genesis was thanks to someone rewatching Ninja Scroll. Maybe it was a joke between writers. Maybe Jones did a cartwheel down the hallway at 3 a.m. Whatever the case, "Shanice Goodwin" is a so-simple-it's-perfect premise designed to goad Jones into some unlikely physical feats. When her sensei sends her after a damsel in distress, this part-time ninja tumbles in, snaps bad guys' necks, and gives her best dead-eye stare to the camera, and she does it all with the subtlety of a bear sneaking the honey jar out of the kitchen cupboard. Jones is Jones is Jones, which is maybe why none of her potential franchise sketches really stuck (see "Get Woke with Tamika"); this one came the closest, thanks to her charisma, physical commitment, and willingness to look totally silly. (The first installment of the sketch is only available to on the NBC website, but the second one is above.)
Leslie Wants to Play Trump
Jones was never an impressionist; if you want to distinguish her Omarosa from the her Oprah, the former frowns while the latter smiles. This sketch — the title says it all — toys with Jones's weakness and her own self-consciousness about it. If Alec Baldwin is busily managing his career, Jones wonders, who is going to replace him on the weeks he can't play Donald Trump? She announces her big plan by marching into Lorne Michaels's office with a blonde wig while pursing her lips and saying "biglyyyy." No, she tells the other cast members, she isn't making a comment about masculinity or race, she's just "giving America what it wants." When Lorne doesn't go for it, she destroys an Emmy, pins him to the wall, and screams about trying to show him she's "got range." The play on Jones's presumed insecurity feels quietly vulnerable, and helps turn her shortcoming into a strength.
Naked & Afraid: Celebrity Edition
More often than not, Jones's big sketches juxtaposed her unbridled energy and six-foot frame with a somewhat mannered, diminutive, and often unsuspecting white guy. She married Martin Freeman against every rational protest in "Wedding Objections," ravaged Mikey Day in ostensible S&M play in a recurring "Update" segment, and met Peter Dinklage in the wild woods during this "Celebrity Edition" of Naked & Afraid. While Jones is all the things you might imagine — loud, impractical, and wildly inappropriate — Dinklage is steadfast and determined to make things work. The sketch is worth watching just for the picture of Jones spooning Dinklage until he can't breathe, whispering her sweet "Tyrion" to Slumberland.
Inner White Girl
Part of the sadness accompanying Jones's departure is knowing SNL's lackluster track record with regard to inclusivity, and knowing it may not replace Jones with another woman of color. Though Ego Nwodim (hopefully) still remains, it will certainly be harder to produce sketches like this Digital Exclusive, which tackles a certain sort of quotidian, white social privilege. In it, Jones is given a special power during childhood, which allows her to call upon an otherwise invisible white woman (Reese Witherspoon) to help her deal with infuriating white people. This comes in handy with a well-meaning bank teller, a security guard, and everyone else in the bank who sees a crazy woman arguing with what seems to be thin air. Meanwhile, Jones gets the opportunity to really revel in her code-switching abilities.
Weezer
Jones took to "Update" when she was mad for the right reasons; writers put her in sketches to watch her lose her mind for the wrong ones. Like Sterling K. Brown's "Family Dinner" sketch, "Weezer" blew up a tiny obsession to billboard size and let the players have at it. Diehard Weezer fan Matt Damon goes toe-to-toe with Jones, who believes "they haven't had a good album since Pinkerton." From there, glasses of wine are shattered and new friendships are destroyed. Jones's journey from calm to crackers, while potentially talking about something she knows very little about IRL, showed that she'd found ways to bring a little nuance to her performances since her tenure at SNL began.
House Hunters
As someone who seems to revel in the real, Jones didn't get many chances to star in more strange, subtle, or abstract sketches. Still, when she got a chance to do a different sort of material with "House Hunters," she pulled it off. She and her partner, played by host Liev Schreiber, evaluate options for their new home. And while the homes' first features seems fairly benign, like whether or not it has a "man cave," soon they're debating the relative merits of invisible split-levels and magicians that live in bathtubs. The absurd details require a pleasant banality to make them work, and Jones makes it feel as though she really might be considering a place with a vertical floor. Maybe she couldn't show Lorne range in her impersonations, but this sketch gives a glimpse of another sort of performance entirely.
Etiquette Lesson
With her outsize presence and full-throttle delivery, rarely did Jones play the straight person. In "Etiquette Lesson," however, she presents herself as Meghan Markle's third cousin, and is determined to see the royal christening. Her contacts in the inner circle assure her it can happen, so long as she learns how to fold her napkin and split a scone from master instructor Vivian Hargrave, played by host Emma Thompson. Little does Shanté Thomas of Compton know that Hargrave is a ferocious demon who only looks and sounds like Mary Poppins. To help contrast between the Compton streets and the cloistered realm of the royals, Jones goes big; the glee with which she sings along with Thompson's little ditties is pretty irresistible. While the sketch treads a little water, it's fun to see Jones play the baffled naif. And perhaps, ultimately, it was the best way to flummox the almighty Jones: put her alone in a room with an incredibly convincing wolf in sheep's clothing, and watch the hunter become the hunted.
The U.E.S.
This rap is something of a hello and (as it turned out) a goodbye all at once. After growing up in Compton, Jones celebrates her newly adopted neighborhood of the Upper East Side — while fending off those who would accuse it of being a boring and homogenous hood with nothing going for it. While the grateful homage is delivered with tongue firmly planted in cheek, Jones extols the virtues of the U.E.S.: bakeries with superior strudel, subway stations that don't smell like pee, and actual black people. ("Think there ain't no black folks? Son, you're mistaken / There's nannies and nurses and a doorman who's Jamaican.") As Jones notes, she is "moving on up like the Jefferson show." If all of her work in TV and film comes through, this will be true in more ways than one. In the meantime, may every one of us be smothered in a Jones bear hug like the unsuspecting citizens featured in this short.