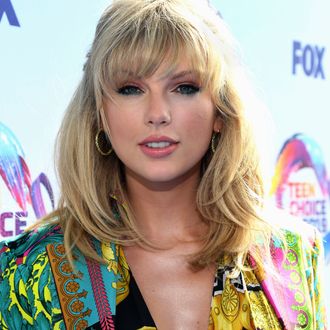 Photo: Kevin Mazur/Getty Images
In one week, Taylor Swift's seventh album, Lover, will be released. (The day immediately after Leo season ends, for those keeping score at home.) She released the album's title track as her fourth advanced single last night, and followed that up today by showing off the 14 other song names on Lover. She also apparently followed Ariana Grande's lead and decided to make her new album promos illegible, while taking her own route and making words invisible instead of putting them (maddeningly) upside down. But what would a release of any Taylor-related information be without a generous helping of extreme speculation to go with it? Vulture's senior Swiftologist dove into the oblivion for "The Archer" and "ME!" and "You Need To Calm Down," but what of the others? Gather around, Swifties and Kaylors, for we will now parse the meaning of every track on Lover that we've never heard. Let's break it down by each Instagram.
"I Forgot That You Existed"
There may come a point in Taylor's career, decades from now, when it stops being fun to think of every single song as shading/referencing/reflecting on her never actually confirmed "relationship" with model and fellow tall beautiful person, Karlie Kloss. But now is not that time! Maybe Taylor wants to come out of the corner with an upper cut on TS7 and give a declaration of "I don't know her" for the girl who Kaylors the world over consider her ex. The two had a very public friendship that very publicly evaporated without explanation a few years ago, and now Karlie takes boating trips with Taylor's ultimate nemesis, Scooter Braun. (Kanye might have been a sparring partner for about a decade, but Scooter bought up all of Taylor's master recordings. Therefore: Nemesis.) That stings. Then again, does it matter who Kloss is on holiday with if … Taylor has wiped her mental hard drive clean on her former companion? The Victoria's Secret Fashion Show doesn't even exist anymore, and since that was an early landmark in the friendship between the two women, it seems like the ocean of time is already doing it's work to wipe the sands clean. "Hey, Taylor! Remember when we did that Vogue photo shoot at an Airstream in Malibu?" "Sorry. I forgot that you existed." Boom!
"Cruel Summer"
What if, for the sake of sheer madness and an unwillingness to let Taylor move on with her life, "Cruel Summer" is a nod to Kanye's Cruel Summer compilation from 2012? If Taylor mentions her "Clique" or her own "New God Flow," we'll know this outlandish scenario is confirmed. Then again, maybe it's yet another rehashing, "Look What You Made Me Do" style, of Kim Kardashian wrecking Taylor's vibe in the summer of 2016 by releasing video receipts of a call she had with Kanye about his song "Famous." Or, leaving the Kardashian-Wests behind, maybe Taylor found her inner–Ace of Base superfan and enlisted someone like Max Martin to deliver a massive Swedish pop beat for an homage to that group's 1998 smash hit of the same name.
Alternately, Vulture's Neil Janowitz offers that it could be "a cover of the Bananarama song of the same name, which was featured in the movie Major League II, which features the Indians, who are from Cleveland, which is the closest major Ohio city to Tim Ryan's district; Taylor's finally fully embracing politics by endorsing him?" Huge if true.
"Lover"
Now that Taylor has come out as straight, I guess we can take "Lover" as her most public display yet of her big (presumably?) straight boyfriend. She sings about the "magnetic force of a man" whom she's loved for "three summers" and wants to jealously keep for all the summers to come. It's a distressing use of gender nouns for Kaylors, but it is Taylor's truth. Of the latest release, Vulture's Craig Jenkins called it "a song about shutting out the world and shacking up with a significant other one assumes to be her boyfriend of three years, Joe Alwyn, presumably for the long run. It's the quietest music to come out of her collaboration with pop producer Jack Antonoff since Reputation's closing piano ballad 'New Year's Day.'" At least we'll always have "Dress," which every Kaylor truther knows is canonically lesbian.
"The Man"
Where fellow megastar Grande took the pro-capitalism approach on her single "7 Rings," maybe "The Man" will build on Taylor's turn toward political activism and tip off some newly liberal socialist beliefs. Is "The Man" an "anti-capitalist screed," as suggested by Vulture's Rachel Handler? Is it a searing takedown of the current presidential administration? Is it about the men who take credit for women's successes in business — a cause she has taken up before? She's already sung about domestic contentment on "Lover" on this album, and she did promise a lot of romance this time around, so is it just about a literal human man? That seems redundant. "You Need to Calm Down" was her consciousness anthem from Lover, so maybe the "The Man" will build on that foundation and give Gen Z a rallying cry for 2020.
"The Archer"
Let's leave this to Vulture's top Swift Scholar, Jill Gutowitz, who previously wrote:
The song was written by Swift and Jack Antonoff, a co-writer on her past two albums, Reputation and 1989, and the song certainly has a more Reputation/1989 feel, given the emotionally intelligent and raw lyrics — something that's customary to every "Track 5" on Swift's past albums (like "Delicate" and "All Too Well").




Speaking of "Delicate," many fans think "The Archer" is actually a sequel to the Reputation song. Sure, sonically they're a match, and lyrically, both leave Taylor very exposed and vulnerable. But there are inexplicable parallels between the two songs: One Twitter user discovered that The Archer is the name of a dive bar in East London. Remember that "Delicate" lyric? "Dive bar on the East side, where you at?" (It's easy to forget literally anything about the man, but recall that her boyfriend, Joe Alwyn, is British; sneaky-ish references to him were littered throughout the "Delicate video.")
"I Think He Knows"
The fundamental question is: Who is He? Is he Joe? Is he an ex or someone who Taylor was involved with when she met Joe, and therefore is she wondering if her former man knew she was starting to mentally divest from her previous relationship while she fell for another? Let us know peace, Taylor!
"Miss Americana & the Heartbreak Prince"
Hopefully "Miss Americana" follows in the musical footsteps of "Starlight" from Red and imagines an elaborate period-piece fantasy in which Taylor sings about love and loss and twirling in the moonlight from the perspective of an old-timey debutante. It would be some real vintage Taylor — pulling fully out of the "darkness" of Reputation — and after so much talk of romance and sweet love, making a song based on a hypothetical young woman's journal entry from like, 1953 would make a lot of sense and it would also be a natural progression from singing about "a duchess and a prince," as she did on "Starlight." That, or "Miss Americana" is a stand-in line for all the women of America, and its "Heartbreak Prince" is the patriarchy?
"Paper Rings"
This sounds dangerously close to being very a cutesy song about you and your love promising yourself to one another with paper rings instead of real ones, "practicing" your engagement after you've run for shelter during a summer storm in the city. (To make it more bearable, just insert Karlie for Joe.)
"Cornelia Street"
"Cornelia Street" seems pretty plainly to be a reference to where Taylor used to keep a remodeled "carriage house" in the West Village. It was put up for sale for more than $24 million two years ago, so no matter what the lyrics of the song are about, know that it's ultimately a reminder of how Taylor is preposterously rich.
"Death by a Thousand Cuts"
This title is really asking us to think about a relationship finally ending after innumerable little transgressions build up into a huge and unsolvable set of problems, or maybe about living in a self-imposed media blackout because the thousands of rumors and whispers about you and your life were finally too much to bear. But our own Jackson McHenry offers a different possibility, suggesting it's an "impassioned defense of Andrea Arnold's work on Big Little Lies season 2." Taylor, a feminist who doesn't like men passing off the work of women as their own, stands shoulder to shoulder with the original director of BLL season two, and hopefully demands the release of the Andrea Arnold cut fans never got to see. Like we said, an activist!
"London Boy"
At this point, our minds are so splintered from Taylor-decoding that deriving any meaning is just like reaching into a word cloud and grabbing for the biggest options, like "Kanye" or "cats" or "Karlie Kloss." So for this one, let's go with Kanye! As Vulture's Nate Jones suggests, "'London Boy' has a prominent Estelle interpolation to troll Kanye," which, sure. "American Boy" is a forever jam, so why should that Estelle hit not be invoked here? And why would we want to assume it's just another song about Joe Alwyn, who is from North London? We could also throw darts at a board and guess it's about an unrequited love Swift has for Ed Sheeran, but he was raised in Suffolk. So, not technically a "London Boy."
"Soon You'll Get Better" (feat. Dixie Chicks)
Could this be ally Taylor back in action, making "Soon You'll Get Better" her own take on the "It Gets Better" campaign? If it's about hardship and overcoming adversity generally, the Dixie Chicks would be logical collaborators, since they had to battle their way back into the good graces of Nashville after shouting down George W. Bush in 2003 turned them into music-industry pariahs. The Dixie Chicks say they've got their first new album in 13 years coming soon, so count on girl power and resiliency.
"False God"
By far the best song title on Lover, "False God" could take a few different forms. My favorite possibility is that it's about Scott Borchetta, the founder of her former label, and Scooter Braun, the man who bought that label and therefore owns Taylor's master recordings of everything through Reputation. More than I want "The Man" to be a takedown of predatory capitalism, I want "False God" to be the beginning of her lyrical feud with Borchetta and Braun. The former created Big Machine, and signed Taylor as its first (eventually) huge talent on her way to basically building the place into what it is today. Maybe "False God" is a reference to his status atop the label. At the same time, Braun manages some of the biggest names in pop (Demi Lovato, Ariana Grande, Justin Bieber), and now owns Big Machine with Borchetta. Taylor has been very clear about her disdain for Braun, calling him a bully, and now he not only owns nearly all of her music, he's also posting photos of being on vacation with Karlie Kloss. Ouch! Is "False God" her shot at the increasingly rich and increasingly powerful Braun? Let's hope!
Meanwhile, music editor Dee Lockett suggests a cover of Kanye's "I Am a God," in which case, shots fired! And someone better hurry up with her damn croissants.
"You Need to Calm Down"
Let's go back to Jenkins, who said in his review of "Calm Down" that it "bottles the feeling of telling someone they're getting too familiar, that rush of flaming a hater for hassling you with senseless negativity." Of the song's very queer-positive messaging and supercharged ally spirit, he added:
Taylor's coming on strong. (I still don't know what "Shade never made anybody less gay" means. Is it an overcooked closet metaphor?) And at-risk communities reserve the right to be suspicious of famous people sniffing around a celebration that serves as an annual reminder of the blood, sweat, and tears spilled fifty years ago on the streets of Greenwich Village and the pain and suffering of oppressed queer, bi, trans, and gender non-conforming people all over the world both before and since. That said, the Lover era's only crimes so far are saccharine writing, audio/visual overstimulation, and a lack of subtlety — politics as usual for the weeks before a Taylor Swift launch. If she's as serious about using her wattage to spotlight LGBTQ talent and lobby for more extensive rights for communities in need as this latest music video suggests, let's hear her out for a while.
"Afterglow"
Music editor Dee Lockett offers simply this: "'Afterglow,' def about Karlie." And honestly, why not?
"ME!"
Taylor's first single from the album sounded a lot like the theme song to the eventual fifth Trolls movie, but it is in fact part of a whole studio album by her. It was also pretty stressful stuff for some Swift experts, like Gutowitz, who wrote of the song's potential hidden messages:
There's a lyric in "ME!" that's quite stressful to me. It goes, "One of these things is not like the other / Like a rainbow with all of the colors / Babydoll, when it comes to a lover / I promise that you'll never find another like me." She's saying she's "like a rainbow with all of the colors" — what does that mean? Are colors genders?? I'm sorry, I refuse to drop the theory that this song and video is queer. Taylor Swift released an entire music video that was literally oozing rainbow, and came clad with gangs of women dressed in pantsuits with ties and briefcases. Did I dream that? Manifest it?
In his analysis for Vulture, Jenkins called it:
The most fuss-free Taylor Swift lead single in ages. ("Shake It Off" borders on the annoying kind of catchy. "Look What You Made Me Do" is a more intriguing video than a song; "Ready for It" and "End Game" served better beats, raps, and hooks.) From the first scene, where the Reputation snake explodes into a kaleidoscope of butterflies with rainbow wings, "ME!" is cute but cloying. It's an everything smoothie brimming with bits of Lisa Frank, Splatoon, Mary Poppins, and "California Gurls."
"It's Nice to Have a Friend"
Vulture contributor Anne Clark says, "Taylor reveals she has only one friend and it is THE LORD," but you know who Taylor is also very openly friends with now? Katy Perry, the hamburger to her french fries. If nothing else, yeah, it is nice to have a friend, and we know Taylor loves to be relatable. Or … it's about her cats, of which there are now three. So she has three friends. Or — or — it's about all the new friends she made while making the live-action adaptation of Andrew Lloyd Webber's Cats, which means it would be about Idris Elba and Judy Dench and Rebel Wilson and Jennifer Hudson and so many more famous people.
"Daylight"
Taylor likes to close her albums with a coda sometimes, so maybe this is her updated version of "Clean," which ended 1989. In that song she sang about a great rain coming through to both wash away past burdens and alleviate a presumably emotional or existential drought. This time around, with happy Taylor being not dead anymore, maybe it's the sunshine pouring in that's proven healing and restorative.