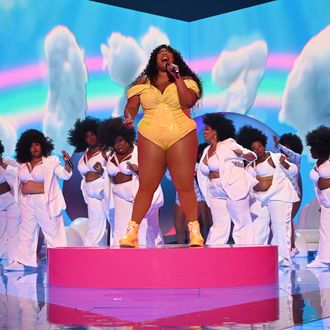 Photo: (C)Kevin Mazur/WireImage
Lizzo, the pop star we need but we don't deserve, performed a mash-up of her songs at the 2019 MTV VMAs, and in doing so, restored hope to a weary, tired nation. The pop star came out in a trench coat and left in a yellow bodysuit. A giant inflatable butt was also involved (for more details, check out the video below). The performance was everything you could hope for from the luminous pop sensation: infectiously energetic, visually stunning, and unapologetically joyful. In the middle of her performance, Lizzo beseeched all watching to feel good about themselves, even if just for a minute:
I'm tired of the bullshit. And I don't have to know your story to know you're tired of the bullshit, too. It's so hard trying to love yourself in a world that doesn't love you back, am I right? So I want to take this opportunity just now, to just feel good as hell. Because you deserve to feel good as hell. We deserve to feel good as hell.
In an awards show that can often feel ridiculous and impersonal, it was a shining moment of genuine care from one of pop's most talented new stars. Lizzo, we owe you a great debt.
Update: Lizzo's performance was more than just an excuse to look juicy in neon yellow (of course she pulls it off); she later posted on Instagram explaining how meaningful the moment was and not just for her. "The world smiled with us," she wrote, speaking for her powerful backup dancers. "The world sang us. The world saw our beauty last night. The world saw black women feeling Good As Hell and cheered us on." Wigs are flying and so are tears!