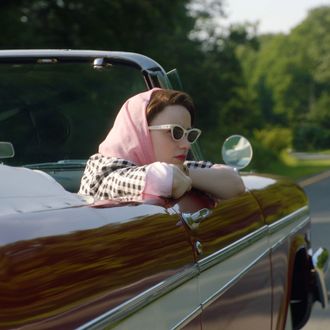 If you promise cheap gasoline to the people of Los Angeles, you better be prepared for the chaos that will bring. As a part of an Emmy campaign for The Marvelous Mrs. Maisel, Amazon sponsored a "Maisel Day" in Los Angeles, with 1959 prices at various places across the city, including delis, candy shops, and even hotels. Because we live in a Mad Max ecological nightmare, the real draw, however, was gas, and specifically the promise of gas for 30 cents a gallon (up to 20 gallons) at the Santa Monica Chevron station off the Cloverfield exit of the busy I-10 freeway. This is where things go wrong. As the local ABC7 news station reported, police had to intervene due to the traffic issues caused by locals drawn to the hot-pink flame of whimsical megacorporation-sponsored low prices.
With her sense of humor in check, Santa Monica police public information lieutenant Candice Cobarrubias referred to the Maisel stunt as "that wonderful terror of a traffic hazard."
Cobarrubias told Vulture that the city's entire traffic-control unit is assigned to the area to help keep traffic flowing, but it's been challenging. "There was a juncture in time we thought we were gonna have to end it because congestion was so chaotic and the location is right off the freeway," she said. "It's right by our city yards and there are all these big trucks coming in and out. It's huge and it's clear they did not adequately plan for the response they were gonna get."
Still, Cobarrubias understands why the offer would be so hard to pass up for Angelenos. "I'm all for it. I love it. I think it's fantastic. It's just been chaotic and a little bit unmanageable," she said. "We can't get public-safety trucks out there for other calls, so we are out there facilitating and trying to help as many people take advantage of that opportunity. You know it's bad when one of our officers was not able to drive back to that station. He had to take the train."
As if daily rush-hour traffic on Interstate 10 in Los Angeles wasn't already its own horror show, Alex Woo, showrunner of AMC's The Terror: Infamy, confirmed Thursday morning traffic was the "terror" police described. Unaware of Maisel Day's influence over his fellow Angelenos, Woo got caught in the mess on his way to a meeting in Santa Monica. "It brought back some terrifying memories of gas shortages in the '70s," Woo said with a laugh. "Like a lot of monsters, it comes without warning until you're stuck in it and it's too late. That's what it's like to be stuck in a monster movie."
"Our first ever Maisel Day was a huge hit today, with fans coming out all over the city to more than 30 locations," an Amazon spokesperson told Vulture. "We worked closely with the police in the Santa Monica area, and the number of cars waiting in line at any given time was limited to help maintain the flow of traffic, until the promotion ended around 2:30pm PT."
A quirky scheme gone awry? Oy vey! Someone cut to Tony Shalhoub making a stern face.