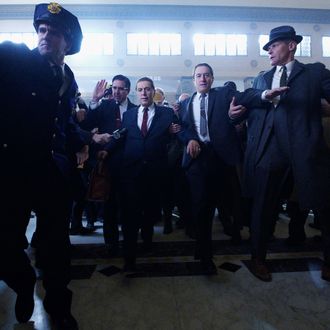 Photo: Niko Tavernise/Netflix
Two movie exhibitors, both alike in dignity, from ancient grudge break to new mutiny: Netflix and cinema chains can't agree on a wide release for The Irishman, so the streaming service will simply opt out. The Irishman, directed by Martin Scorsese, is caught in the cross fire between Netflix and cinemas, according to The Hollywood Reporter. Forgoing a wide theatrical release, like a Scorsese film would traditionally receive, The Irishman will open in select indie theaters on November 1 and go up online 26 days later. It gets the movie out faster for Netflix subscribers, but at what cost? That's not enough time to satisfy theater chains, which typically require 90 days between theatrical release and home release (THR notes that for digital, it can be 74 to 76 days).
The film is still eligible for the Academy Awards, which only requires a seven-day stint at a Los Angeles County theater. The rule was contested but ultimately upheld at an Academy Board of Governors meeting earlier this year. The Directors Guild of America edited its rule to shut out films without an exclusive theatrical release. Cannes Film Festival enforced France's strict cultural exception law, where films wait three years before they can be rereleased, after Netflix's Okja directed by Bong Joon-ho and The Meyerowitz Stories (New and Selected) directed by Noah Baumbach competed in 2017. Netflix picked up The Irishman from Paramount, shouldering $200 million in production costs. The film will premiere on opening night at New York Film Festival. Then, thanks to Netflix, it won't be long until you can watch Robert De Niro's CGI de-aged face from the comfort of your living room.