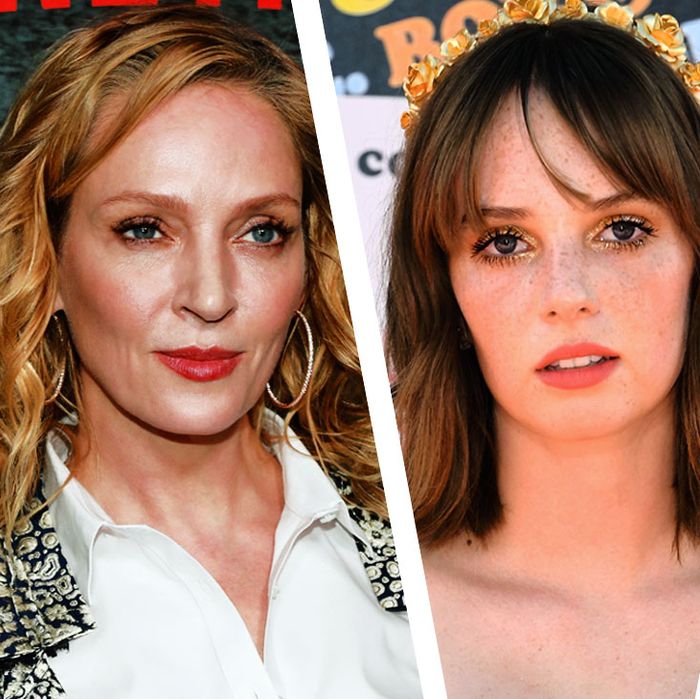 Umaythan.
Photo: Vulture, Getty Images and Shutterstock
Look, Miley Cyrus has Billy Ray, Hailey Bieber has Stephen Baldwin, but Maya Hawke has Uma Thurman and Ethan Hawke as parents. It's hard to get more iconic than that. Having two famous (and gorgeous) parents is a blessing for Maya. (On top of it all, she's multitalented, starring in Stranger Things, Once Upon a Time in Hollywood, and releasing new music.) But it's become a bit of a curse for us, the staff of vulture.com. We cannot decide who she looks more like: her mom or her dad. So, we're turning to you and we're offering evidence. Yes, there are other things we could be doing with our time, like rewatching the Before Sunset trilogy. Ethan Hawke would certainly prefer that. "All children look a lot like their parents," Ethan said to GQ last year. "They act like because their parents are movie actors, she's somehow different than any other human being on the planet. Most people look a lot like their mom and dad." True, but ignore him! Maya Hawke is the color-changing viral dress of celebrity children: Everybody sees something different. So, who does Maya look more like to you?
A little bit blonder and we would take it on faith that this is a photo of Uma Thurman. The eyes and the nose!
The side profile tells a different story. This jaw and brow situation? This is Todd Anderson from Dead Poets Society, if he was a young woman in 2019.
Ethan, is that you? Uma, are you there?
Oh my God, Uma, we loved you in … well, pretty much everything you've ever been in.
True neutral Maya.
A face we're going to be seeing a lot of now that she's a star in her own right.