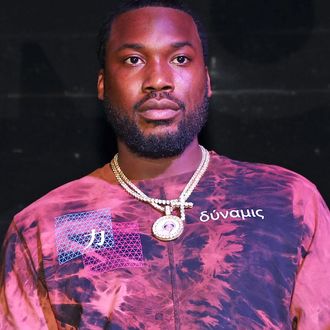 Meek Mill.
Photo: Shareif Ziyadat/Getty Images
After years of arrests, probation, and legal issues, Meek Mill, born Robert Williams, is officially off probation and free from the convictions that have followed him for most of his adult life. The rapper pleaded guilty to possessing a firearm without a license, a misdemeanor crime, according to Pitchfork. All other charges, including parole violations, have been dropped. He won't have to serve additional jail time or be on probation any longer. "I have always told the truth — that as a teenager, who saw many around me die from senseless gun violence, I carried a gun for protection," he said, in a statement posted on Twitter. "I take responsibility for that and — in conjunction with my work on the REFORM Alliance — I'll continue to use my platform to make communities safer and reform our criminal justice system."
A panel of judges overturned his original 2008 gun charge last month, deciding that new evidence would result in a different verdict. They also overturned Judge Genece Brinkley's 2017 parole violation charge (for popping a wheelie on a dirt bike) that prompted the #FreeMeek movement. #FreeMeek, shared by his celebrity friends like Jay-Z, helped spread information about his and others' experiences. He and Jay-Z started the REFORM Alliance in January of this year, dedicated to overhauling the probation and parole system. A docuseries about Meek Mill's life and activism, Free Meek, is currently airing on Amazon Prime Video. And he's already using a new hashtag on Instagram: #MeekIsFree.