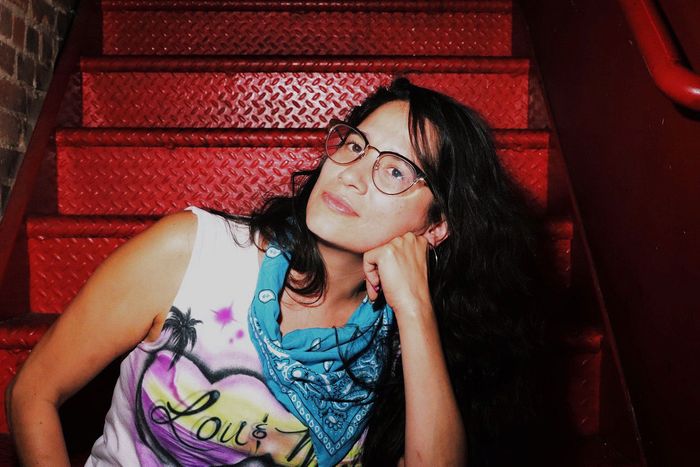 Melissa Rocha.
Photo: Jordan Ashleigh
Melissa Rocha (@melisshious) is a stand-up comedian based in NYC. She hosts and produces the weekly stand-up show Savage Comedy, the storytelling series Funny/Sexy/Sad, and is starting a new monthly show called Latina Nite. She's been seen on NY1, CBS Sunday Morning, MeansTV, Visible Poetry Project, and most recently heard on John Fugelsang's Tell Me Everything on SiriusXM.
This week, Melissa and I talked Twitter friends, going viral, and making tamales for comedy shows.
We do have an election year coming up [smiling, sweating emoji]. Dating in your late 30s is weird because all the men my age are in the throes of their midlife crisis and I finally have confidence. That combination is ripe for ghosting. I'm learning that it makes people uncomfortable seeing women age alone. Okay, maybe that's just my parents. I work four days a week at a nonprofit cinema, ride a bike, take care of pets, and go to the beach. I am a manic pixie dream WOMAN.
Do you think Twitter has been helpful to your comedy in any way? Why or why not?
I think so. I am terrible at sitting down to write jokes or going to open mics. It's fun to write the dumb thing I thought of and immediately put it out there. It's like instant gratification or instant disappointment. It is bad for me though, because then I keep checking my phone. Notifications keep me young, LOL. There's also this really sweet culture of Twitter friends, people I have "met" through social media. I know so much about their internet lives and they know about mine. Some I'll meet IRL, and others … never.
So you're a movie theater manager, a pet carer, a house sitter, a show producer, and a stand-up comedian. How do you find time for it all? What's the key to that balance?
… and I go to the beach, and I have to get my nails done. And I have to go to karaoke. I'm annoyingly energetic and I love hanging out with people, but every two weeks or so I clock out, lay down, try to eat a full meal. Stand-up agrees with my party animal–professional friend lifestyle. "A quiet night in" is a novel concept to me. My time is valuable and I don't really date people — that frees me up. I think I date vicariously through my wonderful friends. If they get married, it's like I got married, and that is good enough for me! Getting older is wild. I spend so much time telling people I love them. Yes, I'm a Pisces.
Omg, I make myself laugh too much. "My Oberon, what visions have I seen! Methought I was enamored of an ass."
You are very proudly Latina. What does having that identity in a very white industry mean to you? Does it affect your comedy at all?
I hang out with a lot of young people, and their confidence and ownership of themselves is admirable. When the phrase "code switching" came about, I was like "THAT'S WHAT I'VE BEEN DOING MY WHOLE LIFE." Since I'm aware of that more; I feel better about being myself onstage and off. I don't specifically make fun of white people, but I do talk about myself and where I come from. My family is really funny, they inspire me a lot, and being Mexican-American is part of that. And yes, my dad is the funniest person I know. It affects my comedy in the best way because I love to cook, sometimes for shows — I'll make empanadas or tamales.
Tell us about the concept behind the storytelling and reading series you host, Funny/Sexy/Sad.
It was started by Nate Waggoner and Amira Pierce a few years ago — they brought me on as a host-producer six months ago. We invite performers to tell a story inspired by any combination of the title. At one show, I read a list of "strange men from the internet" and I thought it was funny, but the audience thought it was sad. I try to book comics that are solid stand-ups, but I am curious to see what they do at a storytelling show. I am the worst because I selfishly book specific people that I want to see what they do. It's a great hang!
Twitter can be a hellscape and we all joke about dying ALL THE TIME. Going viral boggles my mind and I really like the internet's lawlessness when it comes to changing language to a new, different, beautiful thing. Memes are truly an art form (and I went to art school, so I know what art is), and they have gotten me through some tough times.
What Twitter trope would you put on your headstone?
My own stupid question: Why didn't this go viral?